Continuing my Sarah J. Maas readathon (I just made that up okay????), I had to read the second book of the Throne of Glass series. I read the first book, Throne of Glass a week or so ago and I automatically picked up the second book. I thought that the first book was spectacular, this book left me speechless. Beware, emotions will be flying and the spoilers will be coming out. Read at your own risk!
Title: Crown of Midnight
Author: Sarah J. Maas
Publisher: Bloomsbury USA Childrens
Released: August 27, 2013
Pages: 418 (Hardback)
"A line that should never be crossed is about to be breached. It puts this entire castle in jeopardy—and the life of your friend."
From the throne of glass rules a king with a fist of iron and a soul as black as pitch. Assassin Celaena Sardothien won a brutal contest to become his Champion. Yet Celaena is far from loyal to the crown. She hides her secret vigilantly; she knows that the man she serves is bent on evil.
Keeping up the deadly charade becomes increasingly difficult when Celaena realizes she is not the only one seeking justice. As she tries to untangle the mysteries buried deep within the glass castle, her closest relationships suffer. It seems no one is above questioning her allegiances—not the Crown Prince Dorian; not Chaol, the Captain of the Guard; not even her best friend, Nehemia, a foreign princess with a rebel heart.
Then one terrible night, the secrets they have all been keeping lead to an unspeakable tragedy. As Celaena's world shatters, she will be forced to give up the very thing most precious to her and decide once and for all where her true loyalties lie… and whom she is ultimately willing to fight for.
About the Author: Sarah J. Maas is the #1 New York Times bestselling author of the Throne of Glass series and A Court of Thorns and Roses series, as well as a USA Today and international bestselling author. Sarah wrote the first incarnation of the Throne of Glass series when she was just sixteen, and it has now sold in thirty-five languages. A New York native, Sarah currently lives in Pennsylvania with her husband and dog. Empire of Storms, the fifth Throne of Glass novel, is available now. She graduated Magna Cum Laude from Hamilton College in 2008 with a degree in Creative Writing and a minor in Religious Studies. Sarah lives in Bucks County, PA, and over the years, she has developed an unhealthy appreciation for Disney movies and bad pop music. She adores fairy tales and ballet, drinks too much tea, and watches an ungodly amount of TV. When she's not busy writing, she can be found exploring the historic and beautiful Pennsylvania countryside with her husband and canine companion.
My Review:
Let's me just get this out of my system right now: Chaol and Celeana ripped me apart through the whole entire book. Throughout the first book, I was all for the two of them. I wanted them together and it finally happened in this book and it was so romantic.
Chaol had a birthday and Celeana had a whole dinner party planned for the two of them. Dorian had given Chaol a horse and the whole dinner, Celeana was apologizing through the whole book because she felt bad because it wasn't like Dorian's. They looked out over the balcony, and Celeana revealed that she really wasn't killing all the people the King was sending her to kill. She would tell them that they have a certain amount of time to fake their death and leave. Chaol, of course, thought that she was crazy but somehow he still took her to bed.
If you have read A Court of Thorns and Roses or A Court of Mist and Fury, those scenes are a lot more descriptive and long than in Crown of Midnight. Sarah J. Maas does include the fact that they are waking up into the same bed, they were going under the covers but not sleeping but it really wasn't that bad.
In the first book, Dorian was a wimp and he was almost like the creepy stalker boyfriend. Dorian was a little annoying to me. But, in this book, Dorian was one of my favorites.
Dorian has powers. Not just any powers – magic. Magic is supposed to be dead and demolished in the world. Very few people have the power, especially Dorian's age. During one of the meetings with his father/the King, Dorian gets really upset with his dad. Dorian hits the wall, not hurting himself. As he hits the wall, the winds shatter, laying on the floor, everywhere but where he was standing. Dorian storms out of the room and begins to search for answers.
There was a few parts in this book that I actually remember when I read it the first time. The was one character in particular that I remember very well. Baba Yellowlegs is (well was) one of the last witches known to the lands. I have no idea why this was the only character, well scenes that I remember out of the whole entire book.
The first time that you meet the witch, she wants to 'read' Celeana but Dorian and Chaol protects her. Baba Yellowlegs seemed very unimportant the first time that you meet her. I thought that the first time that we meet her, she would reveal something really important to the whole entire plot. I could have sworn she mentioned something about a certain character named Aelin Galathynius but apparently she doesn't.
You think that she wouldn't be put back into the plot but, she appears two more times – when Dorian and Celeana go to her for answers. Dorian pays her very good money (4 gold coins) to answer his questions about magic. Firstly, the whole entire time I was reading this, I thought for sure he could of went to the library and found something, or he could have went to Elena for answers, but Elena WAS NEVER THERE!
Elena claims she had some other things she had to attend to and participate in some things that drained most of her energy. Something tells me that she was doing something else. There is this group that Archer is part of and Celeana is supposed to kill. I don't know what it is but something tells me that she is part of this group since Neheima was also apart of it. That is just my theory and I could be totally wrong about this.
Celeana also goes and talks to Baba Yellowlegs about a few different things that is occurring in her life. Neheima is dead and the riddle is unsolved. Celeana has talked to Mort and he is not helping her the slightest. When Celeana is over there, Baba Yellowlegs ties her up and collects her to die. Since Celeana is the King's Champion, she was always looking for a way to kill someone and she does. She spots an axe and she kills the witch. Blue guts goes everywhere and Celeana escapes.
Yes, you read it right. Neheima is dead. She was killed by… Archer. Now, when you are reading the book, Archer seems like a trust worthy guy. Celeana and Archer has past relationships and since the two have this history, you want to trust him. The first time that Chaol meets Archer, it's almost like war is going to start. Chaol really doesn't trust him from the beginning and I should have stuck with him.
I should have seen the signs from the very beginning, when Celeana is going through Davis's office. Archer takes Celeana to the office to try to find this book, for hints about this riddle she needs to solve. Archer is supposed to be standing watch off the office but, Davis comes in and the two of them get into a big fight. Celeana drinks a poison that will temporarily paralyze her body. Chaol comes and saves her from Davis' office, while fending off the other guards. He really didn't need to worry and Davis because he was already dead. Chaol nurses Celeana back to health and still, Celeana lets Archer off the hook.
Celeana cuts off any relation to both Chaol and Dorian. *Imagine me screaming about now, followed by a lot of tears*
During the middle of the night, Chaol is leaving Celeana's room when he is taken. He doesn't know by who and he has no idea where he even is. Celeana finds a note in Chaol's room, telling her to come to a location, by herself.
Of course, Celeana goes because she doesn't want anything to happen to Chaol. Celeana goes over there and she sees that Chaol has been beaten and she feels like she needs to do something to fix it. She goes in and kills everyone she can see. She gets over to Chaol and there appears Archer. Archer goes and reveals that Neheima was part of the group. This plan was the only way that he knew would get Celeana to get there.
When Celeana and Chaol get back to the castle, Celeana takes her sword to Chaol's throat. Celeana begins to yell at him, along with Dorian about the whole situations saying that she can not trust either of them. If it wasn't for Dorian's magic, both of them would be dead now.
Celeana didn't leave her room for several days and she wouldn't talk to anything. She sat there in front of fireplace. Chaol was afraid to go and talk to her because he had no idea what to say. While Chaol and Celeana were not talking, Celeana and Dorian were.
Celeana and Dorian had their time during the first time, the second book had a great friendship between the two. Dorian and Celeana talked about a lot of different stuff and they all went through a life changing experience, with a demon/monster/creature thing.
Celeana found a passage way that she was determined to figure out everything to it. Dorian had to follow her one of her trips down. Celeana was a head of him, by a lot, so he lost track of her. Somehow, she made it to the Clock Tower. She tried to escape when this creature appeared in front of her. She took off running and she spotted Dorian in the hallway. She warned him to run and he does. They make it into a room where they try to stop the creature. Celeana remembers one of the books that she has in her room called The Walking Dead. She grabs the book and finds a spell that seals the door. Dorian seals the door from the creature.
Of course, Celeana is always getting herself into trouble. After visiting Neheima's room, she goes to her room and she opens a portal to another room. Dorian gets this vision that tells him to go to Celeana. As Celeana opens the portal, Dorian goes after Chaol for backup. Celeana see Neheima and she warns Celeana to close it and never to open it again. Dorian and Chaol makes it just in time as this creature comes after Archer (who I have no idea why he was even there in the first time) and Celeana. Celeana has been hurt badly and Archer is sitting in the corner, like a coward. My heart begins to break because Chaol finally finds the truth about Celeana – she's part fae.
Even though Chaol and Celeana were not talking, Celeana revealing she is Fae to Chaol was something the took a risk. Yes, it was the only way that she would protect Chaol, but it was a risk. A risk that I couldn't take, ever in a million years.
The book ends with Chaol's plan. A plan that will send Celean back to the land of the fae. He gets his dad on board and the King as well. Celeana agrees with it, even though she doesn't want to go. Chaol wants to gain Celeana's trust back and sending her to the Fae is supposed to???? Dorian has no idea why he is doing and he doesn't want her to go. If I was Dorian, I would have fought for her. I would have stopped her from going.
As soon as she says her goodbyes to Dorian and Chaol, she gets on her boat ride to the land. Little did we know that we have met this character named Aelin Galathynius. Little did we know that Aelin Galathynius is actually Celeana and Celeana has had her guess for a while.
One thing I really liked about this book is the fact that we learned more about Chaol's family. Throughout the first book, you learn very little about him. In Crown of Midnight, you actually get to meet his father. His father wants him to come back to his homeland but Celeana is the person that is stopping him for doing it. Because of this plan that Chaol's plan, he promised his dad that he would come back home.
Literally, after I finished this book, I sat there and stared at nothing for a good 15 minutes because of how amazed I was from the ending of the book. I would have to give this book a 4.8 out of 5 stars, only because there was a few characters in the book I didn't like in the book. I'm talking about you Roland and Baba Yellowlegs…
Sarah J. Maas still has it in her to make me fall in love characters I didn't think I was. She has the ability to lift your soul from this universe and transport you to another land. Hands down, one of my favorite books I have read in my life. A must read for fantasy readers, but make sure you check out the first book, Throne of Glass, before you read this one.
The Sequel: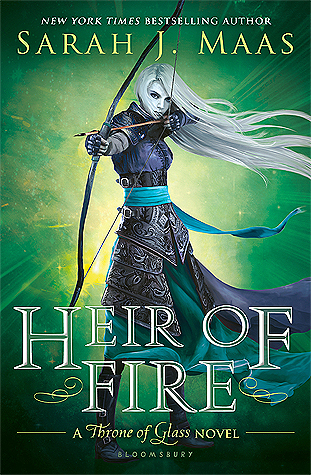 Title: Heir of Fire
Author: Sarah J. Maas
Publisher: Bloomsbury USA Childrens
Released: September 2, 2014
Pages: 565 (Hardback)
Celaena has survived deadly contests and shattering heartbreak―but at an unspeakable cost. Now, she must travel to a new land to confront her darkest truth . . . a truth about her heritage that could change her life―and her future―forever. Meanwhile, brutal and monstrous forces are gathering on the horizon, intent on enslaving her world. Will Celaena find the strength to not only fight her inner demons, but to take on the evil that is about to be unleashed?
The bestselling series that has captured readers all over the world reaches new heights in this sequel to the New York Times best-selling Crown of Midnight. Packed with heart-pounding action, fierce new characters, and swoon-worthy romance, this third book will enthrall readers from start to finish.
Have read this book? Have you read this series? Have you been wanting to? Do you like Sarah J. Maas? How is your current book been going? Let me know your thoughts in the comments!
Happy Reading,