It's my birthday month! My birthdays is in November and I am so excited because I will be turning 16 and I can try and get my license, but I have to keep my permit for a year, which I think is pretty stupid. But, I saw Sam @River Moose-Reads do this back in October and I knew I needed to do this in November. Like Sam, I don't feel comfortable enough to share my birthday up online, only if it is my friends I know personally.
Also, I finally found a theme that I actually liked and I think I am going to be sticking with. For a while now, I have been looking for the perfect theme for my blog. I have been wanting to change it for a while and I thought now would be the right time. Hopefully it is easier to navigate around and find some more stuff!
Count your birth day along your bookshelf and then subtract your birth month. What book does it land on?
The Extraordinary Secrers of April, May & June by: Robin Benway. I still haven't read this book but I am planning on reading this book soon since it sounds pretty good. Also because I got it for $1.50.
If you could spend your birthday with any fictional character who would it be and why?
Clary Fray from The Mortal Instruments. She wears black almost all the time and I love black so it would be a blast!
Find a book that takes place in the season you were born in
To Kill A Mockingbird by: Harper Lee is a book that takes place in fall/autumn, which is the season I was born in. It has been a while since I have read this book but I am almost sure it takes place in that season.
Find a book that is the color of your birth stone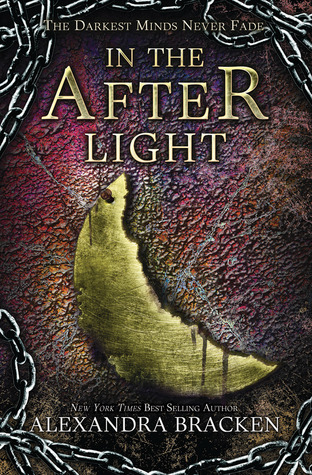 November actually has two birth stones so I just went with citrine. In The Afterlight by: Alexandra Bracken gives off the citrine color in the background. There really isn't any books that have November's birth stone.
Is their a series with the same number of books as your age? If so what is it?
As far as I know, and what Google told me, there are 16 books in the Pretty Little Liars series by: Sara Shepard. I own 9 of the books and I have yet to get 1/4 in the series yet. I didn't realize there were so many books in this series…
Pick a book set in a time period, world or country you would like to have been born in
Outlander by: Diana Gabaldon, I swear I would love to live Scotland. I love their accents over in Scotland and England but the setting for Outlander is the place I want to be born in.
Since I really don't know when your birthday is, I tag YOU to do this tag on your birthday/in your birthday month. And to be totally honest with you, I can never remember birthdays. That's why I have a calendar, well, 3 calendars.
That's the tag! I know, it's pretty short but it was still a lot of fun. I have decided that since this tag was a little short, I would share with you one of my favorite birthday memories!
There is only two weeks between my sister and my birthday and we always celebrate our birthday's on different days. My aunt comes down to my Grandmother's house for my sisters birthday but little did I know, I was getting my birthday gift as well. My sisters were in the living room with my dad, while my mom, grandmother, aunt, and I was in the kitchen. We were sitting around the table and my aunt begins to talk about Taylor Swift with me (since we both are fans). Little did I know that ON MY BIRTHDAY, and I mean on it, that I would be going to The Speak Now World Tour. Let me tell you, the only thing I remember from that was my aunt telling me that she called radio station after radio station to try to get these tickets. One of her friends husbands worked at the arena we were going to and she found out that they would be selling a few more tickets so she got two tickets – one for me and one for her. That birthday has to be my favorite one, so far since I am only turning 16, because not only did I go to my first Taylor Swift concert, but I also got an Amazon Kindle, which I really wanted.
What is one of your favorite birthday memories? Is it a good or a bad one? Let me know your thoughts in the comments!
Happy Reading,