It's November! One of my favorite months in the whole year! Want to know why? Well, my birthday is this month!!! Turning 16 sounds pretty exciting when you are younger, but in reality, it's not that different. Maybe it's more stressful than it sounds. But anyway, here are some books that I am looking forward to getting my hands on this month.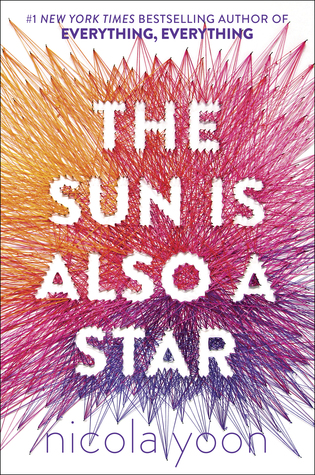 Title: The Sun Is Also A Star
Author: Nicola Yoon
Publisher: Delacorte Press
Release: November 1, 2016
Pages: 384 (Hardback)
Natasha: I'm a girl who believes in science and facts. Not fate. Not destiny. Or dreams that will never come true. I'm definitely not the kind of girl who meets a cute boy on a crowded New York City street and falls in love with him. Not when my family is twelve hours away from being deported to Jamaica. Falling in love with him won't be my story.
Daniel: I've always been the good son, the good student, living up to my parents' high expectations. Never the poet. Or the dreamer. But when I see her, I forget about all that. Something about Natasha makes me think that fate has something much more extraordinary in store—for both of us.
The Universe: Every moment in our lives has brought us to this single moment. A million futures lie before us. Which one will come true?
About the Author:
I believe in love. Really, truly.

I'm kind of a hopeless romantic.

I'm a proud member of the We Need Diverse Books team.

In a former life I made jewelry. You can see some of it here.

I love Karoake, but I cannot sing. I. Am. The. Worst. My song of choice is "Making Love out of Nothing at all" by Air Supply, because AIR SUPPLY.

My husband makes custom notebooks. They are pretty popular.

I hand write my first drafts.

I keep all the empty pens.

I was (am and always will be) a late bloomer.

In a former life I was French. I could live entirely on wine & cheese.

Or maybe Korean because I could live on Kimchi  & Galbi too.
Nicola Yoon grew up in Jamaica (the island) and Brooklyn (part of Long Island). She currently resides in Los Angeles, CA with her husband and daughter, both of whom she loves beyond all reason. Everything, Everything is her first novel.
Why I Want to Read It: I read Nicola Yoon's Everything Everything back in April or May this year. I loved it as well. Nothing was wrong with the book and I fell in love with Nicola Yoon. When I saw that she was releasing another book, I knew I had to get my hands on it. This book sound so beautiful and I have really high hopes for it.
Title: Tales from the Shadowhunter Academy
Authors: Cassandra Clare, Sarah Rees Brennan, Maureen Johnson, and Robin Wasserman
Publisher: Margaret K. McElderry Books
Release: November 15, 2016
Pages: 672 (Hardback)
The New York Times and USA TODAY bestselling collection of short stories chronicling the adventures of Simon Lewis as he trains to become a Shadowhunter is now available in print for the first time with ten brand-new comic illustrations!
Simon Lewis has been a human and a vampire, and now he is becoming a Shadowhunter. The events of City of Heavenly Fire left him stripped of his memories, and Simon isn't sure who he is anymore. So when the Shadowhunter Academy reopens, Simon throws himself into this new world of demon-hunting, determined to find himself again. Whomever this new Simon might be.
But the Academy is a Shadowhunter institution, which means it has some problems. Like the fact that non-Shadowhunter students have to live in the basement. At least Simon's trained in weaponry—even if it's only from hours of playing D&D.
Join Simon on his journey to become a Shadowhunter, and learn about the Academy's illustrious history along the way, through guest lecturers such as Jace Herondale, Tessa Gray, and Magnus Bane. Written by Cassandra Clare, Sarah Rees Brennan, Maureen Johnson, and Robin Wasserman, these moving and hilarious short stories are perfect for the fan who just can't get enough of the Shadowhunters.
About the Authors:
Cassandra Clare was born overseas and spent her early years traveling around the world with her family and several trunks of fantasy books. Cassandra worked for several years as an entertainment journalist for the Hollywood Reporter before turning her attention to fiction. She is the author of City of Bones, the first book in the Mortal Instruments trilogy and a New York Times bestseller. Cassandra lives with her fiance and their two cats in Massachusetts.
Sarah Rees Brennan is Irish and currently lives in Dublin. For a short stint, she lived in New York and became involved with a wide circle of writers who encouraged and supported her, including Holly Black and Cassandra Clare. She has developed a wide audience through her popular blog, mistful.livejournal.com, where she writes movie parodies, book reviews and some stories.
Maureen Johnson knew from an early age she wanted to be a writer. She went to high school at an all-girls' Catholic school and graduated from University of Delaware with a degree in writing. She now lives and writes in New York City.Many of the adventures Maureen's characters face in her books are based on real-life stories. Maureen has traveled all over Europe, and is a Secret Sister to vlog brothers Hank and John Green.
Robin Wasserman is the author of the novel GIRLS ON FIRE. Her writing has appeared in The New York Times, Tin House, The Los Angeles Review of Books, and several short story anthologies. A recent MacDowell Colony fellow, she is also the New York Times bestselling author of more than ten novels for young adults and teaches in the low-residency MFA program at Southern New Hampshire University.
Why I Want To Read It: Anything that includes Cassandra Clare has to be read. Nothing that Cassandra Clare has written has been bad. I have been excited for this book since the short stories have came out but I really don't like reading ebooks. I have been wanting the actual physical copy and I might already have arrangement to go and get it when it comes out…
Title: Heartless
Author: Marissa Meyer
Publisher: Feiwel & Friends
Release: November 8, 2016
Pages: 464 (Hardback)
Long before she was the terror of Wonderland — the infamous Queen of Hearts — she was just a girl who wanted to fall in love.
Catherine may be one of the most desired girls in Wonderland, and a favorite of the yet-unmarried King of Hearts, but her interests lie elsewhere. A talented baker, all she wants is to open a shop with her best friend and supply the Kingdom of Hearts with delectable pastries and confections. But according to her mother, such a goal is unthinkable for the young woman who could be the next Queen.
At a royal ball where Cath is expected to receive the king's marriage proposal, she meets Jest, the handsome and mysterious court joker. For the first time, she feels the pull of true attraction. At the risk of offending the King and infuriating her parents, she and Jest enter into an intense, secret courtship.
Cath is determined to define her own destiny and fall in love on her terms. But in a land thriving with magic, madness, and monsters, fate has other plans.
About the Author: Marissa Meyer is an American novelist. Her debut novel, Cinder, was released on January 3, 2012. It is the first in her series The Lunar Chronicles. Meyer was born in Tacoma, Washington and attended Pacific Lutheran University, where she received a degree in creative writing. Before writing Cinder, Meyer worked as a book editor for five years and wrote Sailor Moon fan fiction under the pen name of Alicia Blade. In an interview with The News-Tribune, she said that doing the fan fiction helped her learn the craft of writing, gave her instant feedback and taught her how to take criticism.
Why I Want To Read It: I loved Marissa Meyer's The Lunar Chronicles and this one seems to sound like Cinder in a way. Something about having to go to a ball to have to find a guy sounds like so many books I have read and loved. But I do have mixed emotions on the book cover though. It isn't as interesting as The Lunar Chronicles' covers.
Title: A Million Worlds With You
Author: Claudia Gray
Publisher: HarperTeen
Release: November 1, 2016
Pages: 432 (Hardback)
A million universes. A million dangers. One destiny.
The fate of the multiverse rests in Marguerite Caine's hands. Marguerite has been at the center of a cross-dimensional feud since she first traveled to another universe using her parents' invention, the Firebird. Only now has she learned the true plans of the evil Triad Corporation—and that those plans could spell doom for dozens or hundreds of universes, each facing total annihilation.
Paul Markov has always been at Marguerite's side, but Triad's last attack has left him a changed man—angry and shadowed by tragedy. He struggles to overcome the damage done to him, but despite Marguerite's efforts to help, Paul may never be the same again.
So it's up to Marguerite alone to stop the destruction of the multiverse. Billions of lives are at stake. The risks have never been higher. And Triad has unleashed its ultimate weapon: another dimension's Marguerite—wicked, psychologically twisted, and always one step ahead.
In the epic conclusion to Claudia Gray's Firebird trilogy, fate and family will be questioned, loves will be won and lost, and the multiverse will be forever changed. It's a battle of the Marguerites . . . and only one can win.
About the Author: Claudia Gray is not my real name. I didn't choose a pseudonym because my real name is unpleasant (it isn't), because I'd always dreamed of calling myself this (I haven't) or even because I'm hiding from the remnants of that international diamond-smuggling cartel I smashed in 2003 (Interpol has taken care of them). In short, I took a pseudonym for no real reason whatsoever. Sometimes this is actually the best reason to do things. I live in New Orleans. So far, in life, I've been a disc jockey, a lawyer, a journalist and an extremely bad waitress, just to name a few. I especially like to spend time traveling, hiking, reading and listening to music. More than anything else, I enjoy writing.

Why I Want To Read It: I liked the first book in this series. I hate beginning series and not finishing them. The thing is, I still haven't read the second book. Yet, I don't even own it. I am still planning on finishing the series sometimes soon. These covers on these books keep getting better and better. The cover is what started me on this series. They are just beautiful and creative!
What books are you looking forward to being released this month? What books do you plan on reading this month? Is there any books on this list that stands out to you? Let me know your thoughts in the comments!
Happy Reading,