The other day, I was sitting in my second period (which is my second favorite class of the day, Adobe) and I was checking up on some of the blogs I follow. I came across Deanna's page with The Goodreads Book Tag. I love her answers so much and it seemed like a lot of fun to do so, that's how we ended up here! Don't worry, I had permission to be on my phone in class, just in case you were worrying.
What was the last book you marked as 'read'?
A Court of Mist and Fury by: Sarah J. Maas. I LOVE this book. The book has everything that a good book needs to have. ACOMAF also happens to be the last book I reviewed up here so make sure you check it out!
What are you currently reading?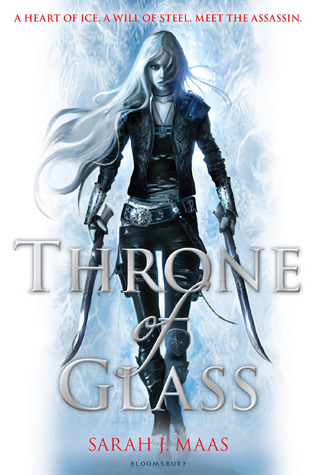 According to Goodreads, I am actually reading 5 different books. In reality, I am only reading Throne of Glass by: Sarah J. Maas. The other books on my list are books that I read when I read on my phone.
What was the last book you marked as TBR?
The Museum of Intangible Things by: Wendy Wunder. The cover is what drew it in the most, and the description of the book is beautiful. I really want to read this book!
What book do you plan to read next?
Crown of Midnight by: Sarah J. Maas. Maybe you can tell or not but I am current obsessed with SJM and I want to die in all of her books! She is amazing!
Do you use the star rating system?
Like Deanna, I hate giving a book a low score. I like to give books a good rating, but sometimes that just really doesn't happen. An author puts so much work into a book and I want them to know that their work has paid off. If the book sucks, that's a different story.
Are you doing a 2016 Reading Challenge?
I actually am. I really didn't set a goal as high as last years since it was 110 and school has slowed down how much I can actually read. I have currently read 47 books out of the 60 I want to this year. I don't really don't care that I am 2 books behind because that should be changing soon!
Do you have a wishlist?
Yes and no. I have one that I keep in my purse with all the books that I really want but on Goodreads, nope.
What book do you plan to buy next?
I don't know!? When I go to the book store, or any store I get a book with, I don't have an idea what book I am going to get. About every time I go looking for a book at a store, they never have them.
Do you have any favorite quotes? Share a few.
"Sometimes, you read a book and it fills you with this weird evangelical zeal, and you become convinced that the shattered world will never be pit back toegther unless and until all living humans read the book."
– John Green, The Fault In Our Stars
"The minutes I had left with him fall away like dead leaves pilled from branches."
– Veronica Roth, Allegiant
"Libraries were full of ideas – perhaps the most dangerous and powerful of all weapons."
– Sarah J. Maas, Throne of Glass
"Heroes aren't always the ones who win," she said. "They're the ones who lose, sometimes. But they keep fighting, they keep coming back. They don't give up. That's what makes them heroes."
– Cassandra Clare, City of Heavenly Fire
Who are your favorite authors?
Oh god. We might be here for a while if I shared all of my favorite authors but here are my top 10 Favorite Authors:
Cassandra Clare

Marie Lu

Sarah J. Maas

Charlaine Harris

Nicholas Sparks

Alexandra Bracken

Tahereh Mafi

Michelle Hodkins

John Green

Morgan Matson
Have you joined any groups?
I am currently part of the Rachel E. Carter YA Book Club Group and Perustopia Book Club Group. I don't often post or do a lot of stuff with the groups because I have been so busy but I am planning on participating in them a lot more.
I tag anyone who really wants to do this tag because it really is a lot of fun to do. To follow/friend me on Goodreads, just click here or the link on the side of the page.
What would your answers be for this? Have you read any of these books before or want to? Let me know your thoughts in the comments!
Happy Reading,