It's Saturday! The day all have been waiting for!
Back last year, I read A Court of Thorns and Roses so when the second book came out, I quickly went and bought it. I was going to start A Court of Mist and Fury but I didn't remember what all happened in the book. I finally picked up ACOTAR and I forgot how much I loved it. I think this book actually helped me out of a reading slump I was in and I didn't even know I was in! If you are looking for a good retelling of a fairy tale, this is just the book for you. Feel free to read ahead because you will not be spoiled at all!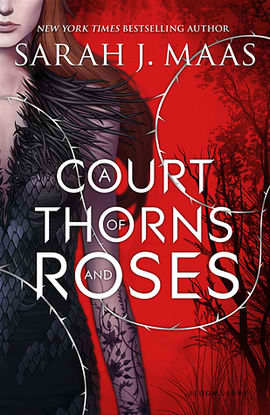 Title: A Court of Thorns and Roses
Author: Sarah J. Maas
Publisher: Bloomsbury USA Childrens
Released: May 5, 2015
Pages: 416 (Hardback)
When nineteen-year-old huntress Feyre kills a wolf in the woods, a beast-like creature arrives to demand retribution for it. Dragged to a treacherous magical land she only knows about from legends, Feyre discovers that her captor is not an animal, but Tamlin—one of the lethal, immortal faeries who once ruled their world.
As she dwells on his estate, her feelings for Tamlin transform from icy hostility into a fiery passion that burns through every lie and warning she's been told about the beautiful, dangerous world of the Fae. But an ancient, wicked shadow grows over the faerie lands, and Feyre must find a way to stop it . . . or doom Tamlin—and his world—forever.
About the Author: Sarah J. Maas is the #1 New York Times bestselling author of the Throne of Glass series and A Court of Thorns and Roses series, as well as a USA Today and international bestselling author. Sarah wrote the first incarnation of the Throne of Glass series when she was just sixteen, and it has now sold in thirty-five languages. A New York native, Sarah currently lives in Pennsylvania with her husband and dog. Empire of Storms, the fifth Throne of Glass novel, is available now. She graduated Magna Cum Laude from Hamilton College in 2008 with a degree in Creative Writing and a minor in Religious Studies. Sarah lives in Bucks County, PA, and over the years, she has developed an unhealthy appreciation for Disney movies and bad pop music. She adores fairy tales and ballet, drinks too much tea, and watches an ungodly amount of TV. When she's not busy writing, she can be found exploring the historic and beautiful Pennsylvania countryside with her husband and canine companion.
The Characters:
Feyre Archeron – A mortal who became educated about about the Faeries after hunting a wolf in the woods. From loosing her mom and everything, she now cares for her two sisters and her dad. When the two wolves appear and they want to take Feyre with them, the one thing she had to get promised was her family would be okay. She is taken with the wolves and she explores a new form of life: Faes, who are immortal. Feyre is not afraid to do anything to protect the ones she loves.
Tamilin – The High Lord of the Spring Court, and a Fae. Tamilin is reserved to himself until he gets to meet Feyre. Tamilin was one of the wolves that came to get Feyre but didn't reveal himself until a little later. Tamilin takes it into his own hands to teach and tell Feyre about their world. Tamilin thought that he was helping Feyre but little does he know how much it truly means to Feyre.
Rhysand – A character introduced into the middle of the book as a help to Feyre, Tamilin and Lucien. His character is minor until he is revealed as Amarantha special helper. Rhysand is seen as evil and vain, and will do anything that will get other people mad. Despite not being a decent character to Feyre, Tamilin and Lucien, he does something that changes everything for Feyre's future. 
Lucien – Lives in the land of Tamilin, and becomes friends with Feyre. Lucien was the other wolf that was with Tamilin when they went to get Feyre. Lucien is the third wheel when it comes to Tamilin, Feyre and him. Lucien is always the last to know all the juicy information. Lucien becomes Feyre's personal watch dog when Tamilin can't watch her.
My Review:
Like I had stated before, A Court of Thorns and Roses was a reread for me. I read it the first time and I loved it. Something about reading it for the second time made the book even better. Like any book, there was actually two love triangles to me – Lucien, Tamilin, and Feyre AND Tamilin, Rhysand and Feyre. These love triangles actually made the book even better. There was the pain of loosing one of the others, the pain of goodbye, and having to sit and watch one get tortured.
If you have ever read a Sarah J. Maas book, you know that the emotion level is going to be high. Something about this book seemed to have a higher emotional troll than the Throne of Glass series. You get a good laugh at some parts of the book and you want to sit down and cry during parts. 
If they had to put an age restriction on the book (which why would they do that), I would have to give it a PG-13. The book doesn't contain any swearing but it does include some fights and some steamy love scenes. The love scenes happen a few time but they aren't like pages on. If you have read that one part in the Shatter Me series or The Unbecoming of Mara Dyer series, it's just like that, or a little more contained.
The only problem I had with this book was the names. If it wasn't for the pronunciation guide in the back of the book, I would have no clue how to pronounce half of the names in the book. The characters had strange names but they all were developed beautifully. Each character had their own different backstory and they were so different from another. The characters have to work together and without being so vastly different, the book would not have ended the way that it beautifully did.
The Sequel:
Title: A Court of Mist and Fury
Author: Sarah J. Maas
Publisher: Bloomsbury USA Childrens
Released: May 3, 2016
Pages: 624 (Hardback)
Feyre survived Amarantha's clutches to return to the Spring Court—but at a steep cost. Though she now has the powers of the High Fae, her heart remains human, and it can't forget the terrible deeds she performed to save Tamlin's people.
Nor has Feyre forgotten her bargain with Rhysand, High Lord of the feared Night Court. As Feyre navigates its dark web of politics, passion, and dazzling power, a greater evil looms—and she might be key to stopping it. But only if she can harness her harrowing gifts, heal her fractured soul, and decide how she wishes to shape her future—and the future of a world torn apart.
Have you read this book or any of Sarah J. Maas' books? What did you think about it? If you haven't read this book, do  you want to read it know? Let me know your thoughts in the comments!
Happy Reading,