For the past couple of weeks, I have been keeping a little secret from you all. When Marie Lu announced her book tour for The Midnight Star, I asked my mom if we could go to the signing where I live. For a little while, she told me that she would have to think about it. My mom read Legend and I could tell that she would want to go and meet her as well. It became official that I would be going to it and I didn't tell anyone. No one past my family knew about it. My friends? Nope. Cousins? Nope. You? Nope. Well, now you all know!
Firstly, who is Marie Lu?
Marie Lu is an American young adult author. She is best known for the Legend series, novels set in a dystopian and militarized future. The novels form the basis of a movie to be produced by CBS Films and directed by Jonathan Levine.
I recently did a Author Talk about Marie Lu so if you are interested in some of her other books, feel free to check it out here.
The Book: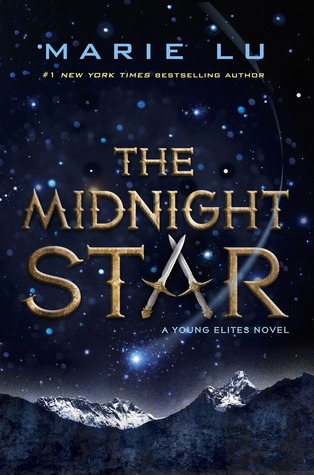 Title: The Midnight Star
Author: Marie Lu
Publisher: G.P. Putnam's Sons Books for Young Readers
Released: October 11, 2016
Pages: 316 (Hardback)
The thrilling finale to the New York Times bestselling Young Elites series from "hit factory" Marie Lu.
There was once a time when darkness shrouded the world, and the darkness had a queen.
Adelina Amouteru is done suffering. She's turned her back on those who have betrayed her and achieved the ultimate revenge: victory. Her reign as the White Wolf has been a triumphant one, but with each conquest her cruelty only grows. The darkness within her has begun to spiral out of control, threatening to destroy all that she's achieved.
Adelina's forced to revisit old wounds when a new danger appears, putting not only Adelina at risk, but every Elite and the very world they live in. In order to save herself and preserve her empire, Adelina and her Roses must join the Daggers on a perilous quest—though this uneasy alliance may prove to be the real danger.
Bestselling author Marie Lu concludes Adelina's story with this haunting and hypnotizing final installment to the Young Elites series.
The Trip:
Typically, it only takes us about 45 minutes to get to the location of the book store where the signing was. Because of Hurricane Matthew, it took us almost an hour and a half. There was only one highway open to get there and it was one of the days that the State Fair was happening so we knew that traffic would be crazy. I didn't think it would be as bad as it was.
We were stuck on one part of the highway for about 20 minutes. Then, we were stuck on another part of the highway for 15 minutes. We knew that there was going to be some traffic but thank god we left early. I might not have gotten there.
On our way there, I decided to tweet out that I was heading off to the bookstore. I was thinking that maybe the bookstore would like it and nothing would happen with Marie Lu. Guess what. Nope. Marie Lu and the bookstore liked the tweet. That was the thing that got me really excited to meet her 🙂
We finally got to the location and we (my mom, dad and I) were all hungry so we went searching for a restaurant to eat at. Originally, my mom and I talked about either Burger King or Cracker Barrel (since we love those places) but my dad was with us so those plans changed.
Dinner was at Golden Corral and when we went, they had about 5 different types of shrimp and it was amazing. They had this coconut shrimp and it was one of the best fired shrimps I have had. But, the garlic parmesan shrimp was the best thing ever. The had this amazing sauce over the top and they were cooked to perfection. Trust me. If you like shrimp and you go to Golden Corral, you need to try this shrimp if they have it.
The Event:
We get to the bookstore and we pick up my copy of The Midnight Star since we preordered it. My mom told me that I could get Prodigy and Champion because I didn't own it yet. My sister told us that we were supposed to look for a certain book for her but they didn't have them. No joke, Marie Lu was right in front of us. She was with another women and they were talking about the book Replica by: Lauren Oliver. The women happened to be an author who has a book coming out in February 2017. Her name is S. Jae-Jones, aka JJ and her book is called Wintersong and it sounds amazing. Marie Lu blurbed it also. But I was there when they took a selfie. It was funny because the selfie was posted on Twitter, I think, and when I saw it, my mom laughed because she moved out of the way because she didn't want to photobomb it.
I went to find some chairs for us to sit in while my mom paid for the books. Marie Lu was literally standing right behind me so I had an interbattle about whether I should get up and take a selfie with her or not. My mom told me to go and take the picture and never in a million years did I expect to hear what I heard. Once we finished the picture, these two girls that set up the whole thing told me they liked my phone case. If you didn't know, Marie Lu is pretty creative herself but when I said that I made it myself, she told me she liked my phone case. I died.
The event started and I really enjoyed it. Of course some people asked some stupid and random questions including what kind of dinner plate would she be, and her answer was Good China. We learned about her two new books and that Legend is moving in the direction of a TV Show instead of a movie. Also The Young Elites movie has hired one of the people dealing with the show American Horror Story. I was so excited and then… my dad's phone went off. His phone went off during the Q&A part. Only my dad would do that.
We got in line to get out books signed and we waited. My aunt, who was only 10 minutes away showed up and waited with us. After waiting for a little while, I finally got my books signed. We got up there and we had a whole conversation about her shoes. Her shoes were amazing. She had on these heeled boots and they were adorable. As she signed my books, we had a conversation about her shoes. My mom and I got our picture taken with her and we went over to Starbucks, where I got myself a Double Chocolaty Chip Crème Frappuccino because I knew that if I got a Peppermint Mocha, I would be awake all night.
I'm not trying to brag in any sort of way. I thought that since I did something like this, I would share this with you all!
Who is one author that you would love to meet? Have you met any authors before? Have you met anyone that is famous in any sort or way before? Do you like Marie Lu? Have you met her? Let me know your thoughts in the comments!
Happy Reading,