It's Halloween and it's time to get into the Halloween season. Get your costumes reads and the magical wand ready! Here comes 5 books you should read this Halloween season.
What is Halloween Though?
Halloween is a celebration observed in a number of countries on 31 October, the eve of the Western Christian feast of All Hallows' Day. It begins the three-day observance of Allhallowtide, the time in the liturgical year dedicated to remembering the dead, including saints, martyrs, and all the faithful departed.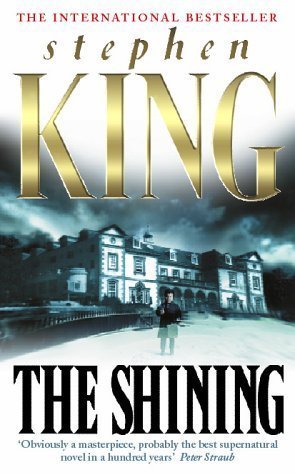 Title: The Shining
Author: Stephen King
Publisher: New English Library (Hodder & Stoughton)
Released: January 28, 1977
Pages: 416 (Paperback)
Danny was only five years old but in the words of old Mr Halloran he was a 'shiner', aglow with psychic voltage. When his father became caretaker of the Overlook Hotel his visions grew frighteningly out of control.
As winter closed in and blizzards cut them off, the hotel seemed to develop a life of its own. It was meant to be empty, but who was the lady in Room 217, and who were the masked guests going up and down in the elevator? And why did the hedges shaped like animals seem so alive?
Somewhere, somehow there was an evil force in the hotel – and that too had begun to shine…
Title: Coraline
Author: Neil Gaiman
Publisher: HarperCollins
Released: August 4, 2002
Pages: 162 (Hardback)
Coraline lives with her preoccupied parents in part of a huge old house–a house so huge that other people live in it, too… round, old former actresses Miss Spink and Miss Forcible and their aging Highland terriers ("We trod the boards, luvvy") and the mustachioed old man under the roof ("'The reason you cannot see the mouse circus,' said the man upstairs, 'is that the mice are not yet ready and rehearsed.'") Coraline contents herself for weeks with exploring the vast garden and grounds. But with a little rain she becomes bored–so bored that she begins to count everything blue (153), the windows (21), and the doors (14). And it is the 14th door that–sometimes blocked with a wall of bricks–opens up for Coraline into an entirely alternate universe. Now, if you're thinking fondly of The Lion, the Witch, and the Wardrobe or Alice's Adventures in Wonderland, you're on the wrong track. Neil Gaiman's Coraline is far darker, far stranger, playing on our deepest fears. And, like Roald Dahl's work, it is delicious.
What's on the other side of the door? A distorted-mirror world, containing presumably everything Coraline has ever dreamed of… people who pronounce her name correctly (not "Caroline"), delicious meals (not like her father's overblown "recipes"), an unusually pink and green bedroom (not like her dull one), and plenty of horrible (very un-boring) marvels, like a man made out of live rats. The creepiest part, however, is her mirrored parents, her "other mother" and her "other father"–people who look just like her own parents, but with big, shiny, black button eyes, paper-white skin… and a keen desire to keep her on their side of the door. To make creepy creepier, Coraline has been illustrated masterfully in scritchy, terrifying ink drawings by British mixed-media artist and Sandman cover illustrator Dave McKean. This delightful, funny, haunting, scary as heck, fairy-tale novel is about as fine as they come.
Title: Dracula
Author: Bram Stoker
Publisher: Signet Classics
Released: 1897
Pages: 382 (Mass Market Paperback)
Dracula is perhaps almost as interesting regarded historically as the product of a specific time as it is engaging to continuing generations of readers in a 'timeless' fashion. In her introduction Byron first discusses the famous novel as an expression not of universal fears and desires but of specifically late nineteenth-century concerns. At the same time she is entirely attuned to the ways in which, however much Dracula is a Victorian text, Dracula is a very twentieth-century character, a representative of modernity and of the future.
Title: It
Author: Stephen King
Publisher: Viking Penguin
Released: September 15, 1986
Pages: 1142 (Hardback)
Derry: a small city in Maine, a place as hauntingly familiar as your own home town. Only in Derry the haunting is real…
It began for the Losers on a day in June of 1958, the day school let out for the summer. That was the day Henry Bowers carved the first letter of his name on Ben Hanscom's belly and chased him into the Barrens, the day Henry and his Neanderthal friends beat up on Stuttering Bill Denbrough and Eddie Kaspbrak, the day Stuttering Bill had to save Eddie from his worst asthma attack ever by riding his bike to beat the devil. It ended in August, with seven desperate children in search of a creature of unspeakable evil in the drains beneath Derry. In search of It. And somehow it ended.
Or so they thought. Then.
On a spring night in 1985 Mike Hanlon, once one of those children, makes six calls. Stan Uris, accountant. Richie "Records" Tozier, L.A. disc jockey. Ben Hanscom, renowned architect. Beverly Rogan, dress designer. Eddie Kaspbrak, owner of a successful New York limousine company. And Bill Denbrough, bestselling writer of horror novels, Bill Denbrough who now only stutters in his dreams.
These six men and one woman have forgotten their childhoods,have forgotten the time when they were Losers…but an unremembered promise draws them back, the present begins to rhyme dreadfully with the past, and when the Losers reunite, the wheels of fate lock together and roll them towards the ultimate terror.
In the biggest and most ambitious book of his career, Stephen King gives us not only his most towering epic of horror but a surprising re-illumination of the corridor where we pass from the bright mysteries of childhood to those of maturity.
Title: Frankenstein
Author: Mary Shelley
Publisher: Penguin Books
Released: 1818
Pages: 215 (Paperback)
Mary Shelley's Frankenstein blends Gothic horror and romance in a story that is both world-famous and increasingly relevant.
Frankenstein is a young, idealistic student of natural philosophy who, finding the secret of giving life to matter, creates a living being. The monstrous creation, thugh tender-hearted and gentle in nature, inspires fear in those who meet him and must hide away from society.
Increasingly lonely and isolated, the monster becomes embittered and cruel, taking a hideous revenge on his creator. In a dramatic denouement in which Frankenstein pursues his creation to the Arctic in order to destroy him, Mary Shelley reveals the terrifying consequences of playing God.
What are your Halloween plans? Do you go to or throw any Halloween themed parties? Are you dressing up as if you are? What is one of your favorite reads for Halloween? Let me know you thoughts in the comments!
Happy Reading,