Hey Yall!
As the leaves begin to fall and the grass turns a shade of brown, a lot of authors are releasing books. Nothing is better than when you open a book for the first time and smelling the pages for the very first time. October has so many books that I want to read that I had to limit myself to 5! Here are 5 books that are being released this month.
Title: The Black Key
Author: Amy Ewing
Publisher: HarperTeen
Release: October 4, 2016
Pages: 304 (Hardback)
For too long, Violet and the people of the outer circles of the Lone City have lived in service to the royalty of the Jewel. But now the secret society known as the Black Key is preparing to seize power.
And while Violet knows she is at the center of this rebellion, she has a more personal stake in it—her sister, Hazel, has been taken by the Duchess of the Lake. Now, after fighting so hard to escape the Jewel, Violet must do everything in her power to return to save not only Hazel, but the future of the Lone City.
About the Author: Amy Ewing is the young adult author of The Jewel, the first in a trilogy from HarperTeen, coming out September 2014.
She grew up in a small town outside Boston, where her librarian mother instilled a deep love of reading at a young age. Amy moved to New York City in 2000 to study theater at New York University. Unfortunately, her acting career didn't quite pan out. She worked in restaurants, as an administrative assistant, a nanny, and a sales representative for a wine distributor before the lack of creativity in her life drove her to begin writing.
Amy received her MFA in Creative Writing for Children from The New School, where she was lucky enough to meet a fabulous community of YA writers who keep her sane on a daily basis. She lives in Harlem, where she spends her days writing, eating cheese, and occasionally binge watching The Vampire Diaries.
Why I Want To Read This Book: I love the first two books to this series so when I get my hands on this book, I will have it done in a day, or a matter of hours. The series is not like anything else, which I don't understand why people compare this book to The Selection by: Kiera Cass. I know a lot of people either love this book or hate it, but I happen to be one who loves it. I can't wait to get my hands on this book!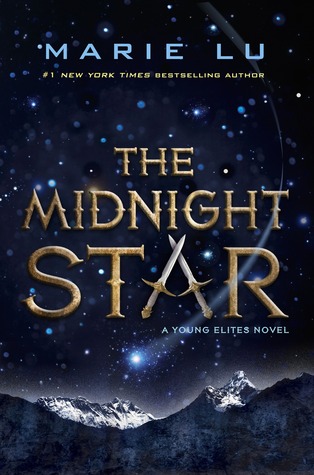 Title: The Midnight Star
Author: Marie Lu
Publisher: G.P. Putnam's Sons Books for Young Readers
Release: October 11, 2016
Pages: 416 (Hardback)
The thrilling finale to the New York Times bestselling Young Elites series from "hit factory" Marie Lu.
There was once a time when darkness shrouded the world, and the darkness had a queen.
Adelina Amouteru is done suffering. She's turned her back on those who have betrayed her and achieved the ultimate revenge: victory. Her reign as the White Wolf has been a triumphant one, but with each conquest her cruelty only grows. The darkness within her has begun to spiral out of control, threatening to destroy all that she's achieved.
Adelina's forced to revisit old wounds when a new danger appears, putting not only Adelina at risk, but every Elite and the very world they live in. In order to save herself and preserve her empire, Adelina and her Roses must join the Daggers on a perilous quest—though this uneasy alliance may prove to be the real danger.
Bestselling author Marie Lu concludes Adelina's story with this haunting and hypnotizing final installment to the Young Elites series.
About the Author: Marie Lu is the art director at Online Alchemy, a video game company, and also owns the children's brand Fuzz Academy. She was first inspired to write Legend while watching Les Miserables one afternoon, and wondered how the relationship between a famous criminal vs. a prodigious detective might translate into a more modern story. She graduated from the University of Southern California in 2006 and lives in Los Angeles, California.
Why I Want To Read This Book: I have always been a big fan of Marie Lu's since Legend. So when The Young Elites came out, I had to read it. I love this book series so much and I am so excited to get my hands on this book. I haven't read the second book but I am doing so really soon, since I am rereading the whole series for this upcoming release!
Title: If I Fix You
Author: Abigail Johnson
Publisher: Harlequin Teen
Release: October 25, 2016
Pages: 304 (Hardback)
Readers of Sarah Dessen, Cammie McGovern and Morgan Matson will adore this thought-provoking, complex and romantic contemporary novel from debut author Abigail Johnson, about finding the strength to put yourself back together when everything you know has fallen apart.
When sixteen-year-old Jill Whitaker's mom walks out—with a sticky note as a goodbye—only Jill knows the real reason she's gone. But how can she tell her father? Jill can hardly believe the truth herself.
Suddenly, the girl who likes to fix things—cars, relationships, romances, people—is all broken up. Used to be, her best friend, tall, blond and hot flirt Sean Addison, could make her smile in seconds. But not anymore. They don't even talk.
With nothing making sense, Jill tries to pick up the pieces of her life. But when a new guy moves in next door, intense, seriously cute, but with scars—on the inside and out—that he thinks don't show, Jill finds herself trying to make things better for Daniel. But over one long, hot Arizona summer, she realizes she can't fix anyone's life until she fixes her own. And she knows just where to start . . .
About the Author: Abigail was born in Pennsylvania. When she was twelve, her family traded in snow storms for year round summers, and moved to Arizona. Abigail chronicled the entire cross-country road trip (in a purple spiral bound notebook that she still has) and has been writing ever since. She became a tetraplegic after breaking her neck in a car accident when she was seventeen, but hasn't let that stop her from bodysurfing in Mexico, writing and directing a high school production of Cinderella, and publishing her first novel.
Why I Want To Read This Book: I hadn't read of this book until I was looking at some of the releases for October on Goodreads. The cover drew me in first because something about the title and the girl adds an excitement about the whole plot. What I have read about this book sounds really intriguing and exciting.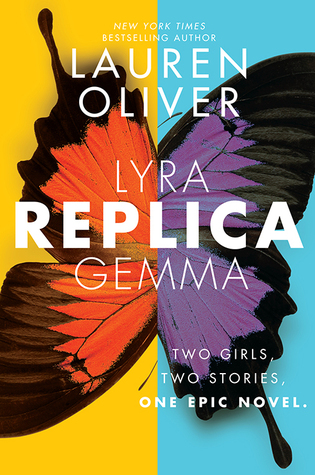 Title: Replica
Author: Lauren Oliver
Publisher: HarperCollins
Release: October 4, 2016
Pages: 544 (Hardback)
Gemma has been in and out of hospitals since she was born. 'A sickly child', her lonely life to date has revolved around her home, school and one best friend, Alice. But when she discovers her father's connection to the top secret Haven research facility, currently hitting the headlines and under siege by religious fanatics, Gemma decides to leave the sanctuary she's always known to find the institute and determine what is going on there and why her father's name seems inextricably linked to it.
Amidst the frenzy outside the institute's walls, Lyra – or number 24 as she is known as at Haven – and a fellow experimental subject known only as 72, manage to escape. Encountering a world they never knew existed outside the walls of their secluded upbringing , they meet Gemma and, as they try to understand Haven's purpose together, they uncover some earth-shattering secrets that will change the lives of both girls forever…
About the Author: Lauren Oliver is the cofounder of content development company Paper Lantern Lit. She is also the New York Times bestselling author of the YA novels Replica, Vanishing Girls, Panic, and the Delirium trilogy: Delirium, Pandemonium, and Requiem, which have been translated into more than thirty languages. The film rights to both Replica and Lauren's bestselling first novel, Before I Fall, were acquired by AwesomenessTV; a major motion picture adaptation of Before I Fall was announced by Open Road Films in 2016. Her novels for middle grade readers include The Spindlers, Liesl & Po, and the Curiosity House series, co-written with H. C. Chester. She has written one novel for adults, Rooms.
A graduate of the University of Chicago and NYU's MFA program, Lauren Oliver divides her time between New York, Connecticut, and a variety of airport lounges. You can visit her online at www.laurenoliverbooks.com
Why I Want To Read This Book: I have a weird relationship with Lauren Oliver's books. I like one of her books but not the next. So far I have liked Panic, Vanishing Girls, and Delirium but not her other books. I think this one sounds really interesting and not like any of her other books so, fingers crossed that I like this one.
Title: In Case You Missed It
Author: Sarah Darer Littman
Publisher: Scholastic Press
Release: October 11, 2016
Pages: 320 (Hardback)
Sammy Wallach has epic plans for the end of junior year over: Sneak out to the city to see her favorite band. Get crush-worthy Jamie Moss to ask her to prom. Rock all exams (APs and driver's).
With a few white lies, some killer flirting, and tons of practice, Sammy's got things covered. That is, until the bank her dad works for is attacked by hacktivists who manage to steal everything in the Wallach family's private cloud, including Sammy's entire digital life. Literally the whole world has access to her emails, texts, photos, and, worst of all, journal.
Life. Is. Over.
Now Sammy's best friends are furious about things she wrote, Jamie thinks she's desperate, and she can barely show her face at school. Plus, her parents know all the rules she broke. But Sammy's not the only one with secrets — her family has a few of its own that could change everything. And while the truth might set you free, no one said it was going to be painless. Or in Sammy's case, private.
About the Author: Sarah Darer Littman is the award-winning author of Confessions of a Closet Catholic, Purge, Life, After, Want to go Private and the upcoming Charmed. I'm Sure and In Case You Missed It. In addition to writing for teens, she is a columnist the website CTNewsJunkie.com. She lives in Connecticut, in a house that never seems to have enough bookshelves.
Why I Want To Read This Book: This book sounds right up my ally. I'm into all of these Lifetime movies that are similar to the plot of this book. The cover speaks to me with the word 'you' in purple, unlike the other words. Even though the book isn't supposed to be funny, I think it might have a humorous character in the book somewhere and somehow.
What books are you looking forward to reading this month? What is one of your book goals for this month? Let me know your thoughts in the comments! 
I was also invited by the wonderful Steph J @Scale It Simple to participate in the Fall Feeling Blog Party. This post was so much fun to do and I can't wait to read some more of the post that come up today!
Happy Reading,
❤ Ann