While my sisters were freaking out about a bug in their room, I was reading Larkin @Wonderfilled Reads and I saw me the word coffee so I had to check it out. I'm not a big coffee drinker but I love me Starbucks. Anytime I go there, I either have to have a Peppermint Mocha (my all time favorite) or a Vanilla Bean Frappuccino. If you haven't ever had either one of these, you need to try one! But anyway, I tag YOU to do the tag since I would love to know your answers to this tag if you haven't done it yet.
Black: A Series That's Tough To Get Into But Has Hardcore Fans
An Ember In The Ashes by: Sabaa Tahir is a series that was really tough to get into for me, that I really didn't like the book that much (but you already know that). There are so many people that like this book and want to come after me because I don't like the book series. Now, every time I go into Books-A-Million, there is always someone getting A Torch Against the Night.
Peppermint Mocha: A Book That Gets More Popular During the Winter or a Festive Time of Year
Harry Potter by: J.K. Rowling is always getting read in the winter time at my high school. You see at least 20+ students carrying around the books around Christmas time. But like Larkin, I have always associated Harry Potter with Christmastime.
Hot Chocolate: A Favorite Children's Book
Barbie School Days by: Apple Jordan. We read this book so many times that my mom had to hide the book from us. My cousin had the book memorized because we sat there and read this book about 50 times in a row for about a week straight. I was a weird kid okay?
Double Shot of Espresso: A Book That Kept You On The Edge Of Your Seat From Start to Finish
The whole The Darkest Minds Series by: Alexandra Bracken kept me on the edge of my seat. I grew in love with the characters and I needed to know what happened with them all, especially Liam Stewart. The writing pulled me in from page 1. I could have answered this question with so many other books as well…
Starbucks: A Book You See Everywhere
The Light Between Oceans by: M.L. Stedman is everywhere! I see this book anytime I go shopping, even at places like Harris Teeter. I understand the movie is coming out but it doesn't even look that good in my opinion.
That Hipster Coffee Shop: A Book By An Indie Author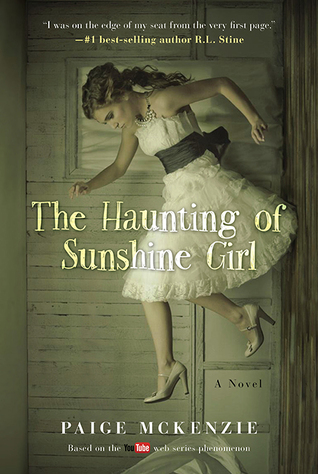 The Haunting of Sunshine Girl by: Paige McKenzie is a book I see everywhere and I am interested in reading. Something about the cover draws me in and makes me want to read the book.
Oops! I Accidents Got Decaf: A Book You Were Expecting More From
Pretties by: Scott Westerfeld. I really liked Uglies so I was excited to continue Tally's story but the second book didn't live up to the level of the first. I felt like the book didn't need to get a four book series since it seemed really stretched out to me. I haven't and I won't read Extras because I know that I will never finish it happy.
The Perfect Blend: A Book or Series That Was Both Bitter and Sweet, but Ultimately Satisfying
The Mortal Instruments by: Cassandra Clare. This has to be one of my favorite book series in the world. Throughout the series, there was times that I wanted to cry, laugh, and throw the book against the wall. Cassandra Clare adds a type of emotion that other authors don't have and that is why I love her books.
I got this amazing heading image from Cátia @Girl Who Reads Too Much so I hope that it is okay that I used it. But like I have said, I would love to know your answers if you have yet to do this tag. Let me know your thoughts in the comments!
Happy Reading,
❤ Ann