I'll be one of the first people to come out and say this: I have a book buying problem. Anytime we go somewhere with books, I always seem to buy one. It's common nature for me and my parents have started to get used to it.
With that in mind, I have a bunch of books that are on my bookshelf that have not been read. Some of them are only about a month sitting but then right next to it is a book that has been up there for a few years… Whoops. I'm not going to share all of these books but here are some of them.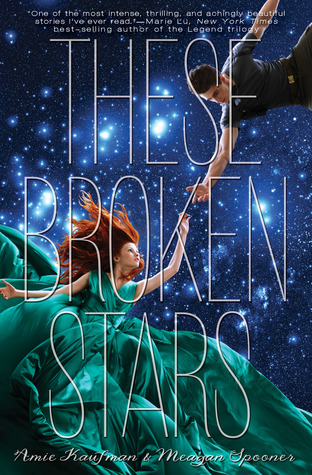 Title: These Broken Stars
Author: Amie Kaufman and Meagan Spooner
Publisher: Disney Hyperion
Released: December 10, 2013
Pages: 374 (Hardback)
Luxury spaceliner Icarus suddenly plummets from hyperspace into the nearest planet. Lilac LaRoux and Tarver Merendsen survive – alone. Lilac is the daughter of the richest man in the universe. Tarver comes from nothing, a cynical war hero. Both journey across the eerie deserted terrain for help. Everything changes when they uncover the truth.
The Starbound Trilogy: Three worlds. Three love stories. One enemy.
I bought the book back in December 2014 because I was hearing so many good things about the book. I had about $80 to spend at Barnes and Noble after Christmas so this was one of those books. I have been tempted to read this book so many times but I keep finding another book to read. The worst part of all, I keep wanting to buy the other books even before I read this one! I don't know what is keeping me away from this book because the pages in this book are really soft, yes they are soft on the paperback, and it seems really interesting. 
Title: The Theory of Everything
Author: Kari Luna
Publisher: Philomel Books
Released: July 11, 2013
Pages: 320 (Hardback)
One part Libba Bray's GOING BOVINE, two parts String Theory, and three parts love story equals a whimsical novel that will change the way you think about the world.
Sophie Sophia is obsessed with music from the late eighties. She also has an eccentric physicist father who sometimes vanishes for days and sees things other people don't see. But when he disappears for good and Sophie's mom moves them from Brooklyn, New York, to Havencrest, Illinois, for a fresh start, things take a turn for the weird. Sophie starts seeing things, like marching band pandas, just like her dad.
Guided by Walt, her shaman panda, and her new (human) friend named Finny, Sophie is determined to find her father and figure out her visions, once and for all. So she travels back to where it began—New York City and NYU's physics department. As she discovers more about her dad's research on M-theory and her father himself, Sophie opens her eyes to the world's infinite possibilities—and her heart to love.
Perfect for fans of Going Bovine, The Perks of Being a Wallflower, Scott Pilgrim vs. The World and The Probability of Miracles.
I bought this book at a discounted store, not only because it was about $3.00 but because it was signed. The store had a signed copy so I had to get it. I want to say I bought it last summer, about June 2015, but I could be wrong. I know I got it a year ago. The book looks really interesting since there is a panda on the cover, not just one either, with a girl trying to kiss it. I really want to read it soon since it does sound really good and the spin of the book is really pretty on the hardback.
Title: The Rose Society
Author: Marie Lu
Publisher: G.P. Putnam's Sons Books for Young Readers
Released: October 13, 2015
Pages: 395 (Hardback)
Once upon a time, a girl had a father, a prince, a society of friends. Then they betrayed her, and she destroyed them all.
Adelina Amouteru's heart has suffered at the hands of both family and friends, turning her down the bitter path of revenge. Now known and feared as the White Wolf, she flees Kenettra with her sister to find other Young Elites in the hopes of building her own army of allies. Her goal: to strike down the Inquisition Axis, the white-cloaked soldiers who nearly killed her.
But Adelina is no heroine. Her powers, fed only by fear and hate, have started to grow beyond her control. She does not trust her newfound Elite friends. Teren Santoro, leader of the Inquisition, wants her dead. And her former friends, Raffaele and the Dagger Society, want to stop her thirst for vengeance. Adelina struggles to cling to the good within her. But how can someone be good when her very existence depends on darkness?
Bestselling author Marie Lu delivers another heart-pounding adventure in this exhilarating sequel to The Young Elites.
The book was bought in November 2015 because my local Books-A-Million had signed copies of it, and I had birthday money (since my birthday is in November). I love the first book in this series, The Young Elites, so I knew that I needed to get this book. Marie Lu is one of my favorite authors in the world, and I have not hated nothing she has done. One of the reasons that I have not read it is because:
a) I need to reread the first book
b) My friend told me to wait to read the book so we could read it at the same time but that has not happened yet so I am going to read it soon since the next book comes out next month
I am planning on reading this book really soon and I am hoping that it is going to be as amazing as the first book. The cover is really different from the first book and I really like it.
Title: Black Ice
Author: Becca Fitzpatrick
Publisher: Simon & Schuster Books For Young Readers
Released: January 1, 2014
Pages: 392 (Hardback)
Sometimes danger is hard to see… until it's too late.
Britt Pfeiffer has trained to backpack the Teton Range, but she isn't prepared when her ex-boyfriend, who still haunts her every thought, wants to join her. Before Britt can explore her feelings for Calvin, an unexpected blizzard forces her to seek shelter in a remote cabin, accepting the hospitality of its two very handsome occupants—but these men are fugitives, and they take her hostage.
In exchange for her life, Britt agrees to guide the men off the mountain. As they set off, Britt knows she must stay alive long enough for Calvin to find her. The task is made even more complicated when Britt finds chilling evidence of a series of murders that have taken place there… and in uncovering this, she may become the killer's next target.
But nothing is as it seems in the mountains, and everyone is keeping secrets, including Mason, one of her kidnappers. His kindness is confusing Britt. Is he an enemy? Or an ally?
BLACK ICE is New York Times bestselling author Becca Fitzpatrick's riveting romantic thriller set against the treacherous backdrop of the mountains of Wyoming. Falling in love should never be this dangerous…
Becca Fitzpatrick wrote one of my favorite book series, Hush Hush. I thought because I loved this series that I would like this book. Well, I still can't answer that question and I have had the book since December 2014, and it was a gift from my grandmother. I kept telling myself that I was going to read that book next and I never did read it. It sounds really good and I have no clue what is making me not read it. *WHY DOES THERE HAVE TO BE SO MANY GOOD BOOKS IN THE WORLD!*
Title: Never Let Me Go
Author: Kazuo Ishiguro
Publisher: Knopf
Released: April 5, 2005
Pages: 288 (Hardback)
As children, Kathy, Ruth, and Tommy were students at Hailsham, an exclusive boarding school secluded in the English countryside. It was a place of mercurial cliques and mysterious rules where teachers were constantly reminding their charges of how special they were. Now, years later, Kathy is a young woman. Ruth and Tommy have reentered her life, and for the first time she is beginning to look back at their shared past and understand just what it is that makes them special–and how that gift will shape the rest of their time together.
Book-A-Million was doing a promotion of Buy 2, Get 1 Free back about October 2015. I was buying the graphic novels for Clockwork Prince and Clockwork Princess since I owned the first one (and it is amazing!) It's pretty sad that the women that was checking us out, who I always see, she knows my name and face since I go there so often with either my mom or my dad. The two books were not part of the promotion but she told me to go and get another book and this was the book. I saw a trailer for the book/movie and I wanted to read it. I have a feeling it is going to be like The Kite Runner so it is going to be a great read.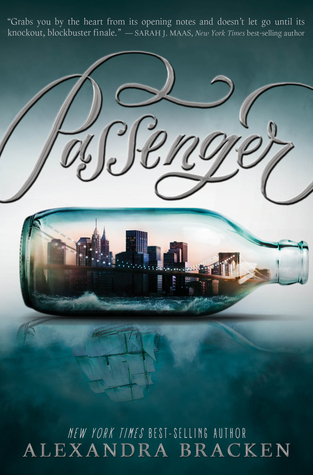 Title: Passenger
Author: Alexandra Bracken
Publisher: Disney-Hyperion
Released: January 5, 2016
Pages: 486 (Hardback)
Passage, n.
i. A brief section of music composed of a series of notes and flourishes.
ii. A journey by water; a voyage.
iii. The transition from one place to another, across space and time.

In one devastating night, violin prodigy Etta Spencer loses everything she knows and loves. Thrust into an unfamiliar world by a stranger with a dangerous agenda, Etta is certain of only one thing: she has traveled not just miles but years from home. And she's inherited a legacy she knows nothing about from a family whose existence she's never heard of. Until now.
Nicholas Carter is content with his life at sea, free from the Ironwoods—a powerful family in the colonies—and the servitude he's known at their hands. But with the arrival of an unusual passenger on his ship comes the insistent pull of the past that he can't escape and the family that won't let him go so easily. Now the Ironwoods are searching for a stolen object of untold value, one they believe only Etta, Nicholas' passenger, can find. In order to protect her, he must ensure she brings it back to them—whether she wants to or not.
Together, Etta and Nicholas embark on a perilous journey across centuries and continents, piecing together clues left behind by the traveler who will do anything to keep the object out of the Ironwoods' grasp. But as they get closer to the truth of their search, and the deadly game the Ironwoods are playing, treacherous forces threaten to separate Etta not only from Nicholas but from her path home… forever.

Yet again, I went to Books-A-Million to buy one book but I ended up with two books. February 2015, I went to buy one book and I noticed that they had this book. I had been wanting this book so I got it, even though I was broke after this trip to the store. I have brought this book to school about three times to begin reading it but I keep putting the book back on the shelf and getting another book. The book sounds amazing and I really like Alexandra Bracken's The Darkest Minds so I want to devour this book!
It's a little scary to think that I remember these trips to Books-A-Million or Barnes & Noble. I guess that I remember those special moments in my life and books make up a lot of them. What is one of your favorite moments with your books? Mine would have to be the other day. We were in Homeroom and all the teachers were deciding about the schedule since we were getting out early for the storm. Two of my friends and I sat there talking about books and it was really relaxing.
What books do you have on your bookshelf that you still haven't read? What are you currently reading? Let me know your thoughts in the comments! And, I am pretty sure that this describes all of us.
Happy Reading,
❤ Ann