It's September already!? It feels like August just started about two weeks ago. I guess that is what happens when you have fun! Any way, September had risen and it has brought some more of their book friends with them. Like any other month, there are always a few books I want to get my hands on, and you might want to also. Let's get into the list:
Title: Empire of Storms
Author: Sarah J. Maas
Publisher: Bloomsbury USA Childrens
Release: September 6, 2016
Pages: 704 (Hardback)
The long path to the throne has only just begun for Aelin Galathynius. Loyalties have been broken and bought, friends have been lost and gained, and those who possess magic find themselves at odds with those don't.
As the kingdoms of Erilea fracture around her, enemies must become allies if Aelin is to keep those she loves from falling to the dark forces poised to claim her world. With war looming on all horizons, the only chance for salvation lies in a desperate quest that may mark the end of everything Aelin holds dear.
Aelin's journey from assassin to queen has entranced millions across the globe, and this fifth installment will leave fans breathless. Will Aelin succeed in keeping her world from splintering, or will it all come crashing down?
Why I Want To Read It: Ever since the ending of Heir of Fire, I have wanted this book. I love all of Sarah J. Maas' books, especially the Throne of Glass series so I can't wait to see what happens in this book. So many of my questions will be answered! If you haven't read the book series, you should totally pick up the books and read them. One thing I know for sure that I need to do before I read this book is to reread the last books since I like to binge read books. I can't wait to get my hands on the book!
About the Author: Sarah lives in Bucks County, PA, and over the years, she has developed an unhealthy appreciation for Disney movies and bad pop music. She adores fairy tales and ballet, drinks too much tea, and watches an ungodly amount of TV. When she's not busy writing, she can be found exploring the historic and beautiful Pennsylvania countryside with her husband and canine companion.
Title: Tales of the Peculiar
Author: Ransom Riggs
Publisher: Dutton Books for Young Readers
Release: September 3, 2016
Pages: 192 (Hardback)
Before Miss Peregrine gave them a home, the story of peculiars was written in the Tales.
Wealthy cannibals who dine on the discarded limbs of peculiars. A fork-tongued princess. These are but a few of the truly brilliant stories in Tales of the Peculiar—the collection of fairy tales known to hide information about the peculiar world, including clues to the locations of time loops—first introduced by Ransom Riggs in his #1 bestselling Miss Peregrine's Peculiar Children series.
Riggs now invites you to share his secrets of peculiar history, with a collection of original stories in this deluxe volume of Tales of the Peculiar. Featuring stunning illustrations from world-renowned artist Andrew Davidson, this compelling, rich, and truly peculiar anthology is the perfect gift for not only fans, but for all lovers of great storytelling.
Why I Want To Read It: Let me scream this out to you: I LOVE MISS PEREGRINE'S HOME FOR PECULIAR CHILDREN! That is one of my favorite books, and series in the whole world. The book was actually a quick read for me, which doesn't bother me at all. The whole series is beautifully written so I would love to know the stories that happened before Jacob came into play. I'm really excited about reading this book! Also, the movie for Miss Peregrine's Home for Peculiar Children comes out this month and I really excited for the movie.
About the Author: Ransom Riggs is an American writer and filmmaker best known for the book Miss Peregrine's Home for Peculiar Children. Riggs was born in Maryland in 1980 on a 200-year-old farm, and grew up in Florida, where he attended Pine View School for the Gifted. He studied English literature at Kenyon College, and studied film at the University of Southern California.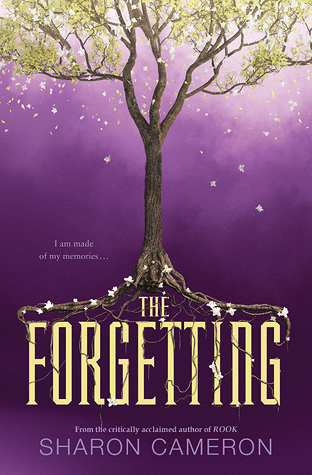 Title: The Forgetting
Author: Sharon Cameron
Publisher: Scholastic Press
Release: September 13, 2016
Pages: 416 (Hardback)
What isn't written, isn't remembered. Even your crimes.
Nadia lives in the city of Canaan, where life is safe and structured, hemmed in by white stone walls and no memory of what came before. But every twelve years the city descends into the bloody chaos of the Forgetting, a day of no remorse, when each person's memories – of parents, children, love, life, and self – are lost. Unless they have been written.
In Canaan, your book is your truth and your identity, and Nadia knows exactly who hasn't written the truth. Because Nadia is the only person in Canaan who has never forgotten.
But when Nadia begins to use her memories to solve the mysteries of Canaan, she discovers truths about herself and Gray, the handsome glassblower, that will change her world forever. As the anarchy of the Forgetting approaches, Nadia and Gray must stop an unseen enemy that threatens both their city and their own existence – before the people can forget the truth. And before Gray can forget her.
Why I Want To Read It: I actually heard about this book in a video that emmabooks did on her YouTube channel. As Emma explained the book, I was interested in the book. Something about losing your memory if you don't write it down interests me. The book sounds really good and I want to know what Nadia and Gray did and I want to know why it happens, why do their memories disappear.
About the Author: Sharon Cameron was awarded the 2009 Sue Alexander Most Promising New Work Award by the Society of Children's Book Writers and Illustrators for her debut novel, The Dark Unwinding. When not writing Sharon can be found thumbing dusty tomes, shooting her longbow, or indulging in her lifelong search for secret passages.
Title: The Fever Code
Author: James Dashner
Publisher: Delacorte Press
Release: September 27, 2016
Pages: 304 (Hardback)
Once there was a world's end.
The forests burned, the lakes and rivers dried up, and the oceans swelled.
Then came a plague, and fever spread across the globe. Families died, violence reigned, and man killed man.
Next came WICKED, who were looking for an answer. And then they found the perfect boy.
The boy's name was Thomas, and Thomas built a maze.
Now there are secrets.
There are lies.
And there are loyalties history could never have foreseen.
This is the story of that boy, Thomas, and how he built a maze that only he could tear down.
All will be revealed.
A prequel to the worldwide Maze Runner phenomenon, The Fever Code is the book that holds all the answers. How did WICKED find the Gladers? Who are Group B? And what side are Thomas and Teresa really on? Lies will be exposed. Secrets will be uncovered. Loyalties will be proven. Fans will never see the truth coming.
Why I Want To Read It: I read The Maze Runner trilogy about two years ago. I liked the first two books but I really didn't enjoy the last one. I haven't read The Kill Order because I just really don't have an interest in it. The one thing I have wanted to know since I read the book was how it all started, and surprisingly, about Group B.
About the Author: James is the author of The Maze Runner trilogy and The 13th Reality series. He also published a series (beginning with A Door In The Woods) with a small publisher several years ago. He lives and writes in the Rocky Mountains.
Title: The Wonder
Author: Emma Donoghue
Publisher: Little, Brown and Company
Release: September 20, 2016
Pages: 304 (Hardback)
In Emma Donoghue's latest masterpiece, an English nurse brought to a small Irish village to observe what appears to be a miracle-a girl said to have survived without food for months-soon finds herself fighting to save the child's life.
Tourists flock to the cabin of eleven-year-old Anna O'Donnell, who believes herself to be living off manna from heaven, and a journalist is sent to cover the sensation. Lib Wright, a veteran of Florence Nightingale's Crimean campaign, is hired to keep watch over the girl.
Written with all the propulsive tension that made Room a huge bestseller, THE WONDER works beautifully on many levels–a tale of two strangers who transform each other's lives, a powerful psychological thriller, and a story of love pitted against evil.
Why I Want To Read It: I loved Emma Donoghue's book Room. One of the reasons I loved the book so much is the fact Emma has a way to draw you into the book. I'm really hoping that this will be like Room. The book sounds really different from Room but something about seeing someone that comes from so much going somewhere they have practically nothing. I'm really excited to see how this one is like.
About the Author: Emma is the youngest of eight children of Frances and Denis Donoghue. She attended Catholic convent schools in Dublin, apart from one year in New York at the age of ten. In 1990 she earned a first-class honours BA in English and French from University College Dublin, and in 1997 a PhD (on the concept of friendship between men and women in eighteenth-century English fiction) from the University of Cambridge. Since the age of 23, Donoghue has earned her living as a full-time writer. After years of commuting between England, Ireland, and Canada, in 1998 she settled in London, Ontario, where she lives with her partner and their son and daughter.
 It's crazy to think that in 3 months that it will be 2017! It's been a good year for me and I hope that it has been the same for you. What is one of your favorite moments of 2016? Mine has to be this one time we were at the beach and my mom and I were walking along the shoreline. While we were walking, a wave hits my mom and she leans on me. She misses me and she falls in the ocean. It was hilarious.
What is one book you are looking forward to this month? Any good books planned to be read this month? Let me know your thoughts in the comments!
Happy Reading,
❤ Ann