Like I mentioned in my review for Finding Dory, my movie theater does $5 movie Tuesdays, where all movies, all day long are only $5. My mom jumped on the idea and we are going to watch a movie every Tuesday. I really wanted to go and watch Tarzan but my mom wanted to see The Secret Life of Pets so my mom won, since she was the one who was paying and because I was nice to her. I actually ended up watching it, and had a laugh or two in it. To warn you now, there will be spoilers if you haven't watched the movie and you want to. 
Title: The Secret Life of Pets
Director: Chris Renaud and Yarrow Cheney
Released: July 8, 2016
Run Time: 90 minutes
Distributed By: Universal Studios
Rating: 3.35 out of 5
Max is a spoiled terrier who enjoys a comfortable life in a New York building until his owner adopts Duke, a giant and unruly canine. During their walk outside, they encounter a group of ferocious alley cats and wind up in a truck that's bound for the pound. Luckily, a rebellious bunny named Snowball swoops in to save the doggy duo from captivity. In exchange, Snowball demands that Max and Duke join his gang of abandoned pets on a mission against the humans who've done them wrong.
Trailer:
The Cast:
Louis C.K. as Max

Eric Stonestreet as Duke

Kevin Hart as Snowball

Jenny Slate as Gidget

Ellie Kemper as Katie

Bobby Moynihan as Mel

Lake Bell as Chloe

Dana Carvey as Pops

Hannibal Buress as Buddy

Steve Coogan as Ozone and also Reginald

Albert Brooks as Tiberius

Tara Strong as Sweet Pea

Chris Renaud as Norman

Michael Beattie as Tattoo

Sandra Echeverría as Maria

Jaime Camil as Fernando

Kiely Renaud as Molly

Laraine Newman as Chloe's owner

John Kassir as Leonard's owner

Mona Marshall as Gidget's owner

Jess Harnell as an unnamed papillon dog
Favorite Scene:
While Max and Duke are lost, they wonder into a sausage factory and they begin to eat the sausages. Because they ate so many of them, the two begin to see things, like talking sausages. The sausages begin to dance and they devour a bunch more of these happy, dancing sausages. It is hilarious, stupid and so weird at the same time, that you can't help yourself but laugh!
Favorite Character:
I love Kevin Hart's character Snowball. At first sight, he is a cute and adorable bunny but in reality, he is a vicious bunny. You first see him jump out of the sewage in front of animal control. The one animal control guys gets out of the truck and tries to get the bunny. When the guys get close, Snowball gets the guy and starts to beat him up, and he does the same to the other guy. He gets in the back of the truck, with his two friends, which are a pig and a lizard. They save their friend, and also Max and Duke. Snowball and his friends are part of this group who is devoted to killing the pet owners and take over the world. They take Max and Duke, which the two get Snowball mad so Snowball wants to kill him. Snowball gets a plan already and goes out to look for him. At the end of the movie, Snowball and Max has to team up to find their friends. Snowball tricks him and the group begins to come after Max before Gidget comes and saves Max. Max goes after Duke and the truck begins to sink. Snowball sees it is his job to go after Max and Duke. Snowball jumps in a saves them, showing that he really cares about them. The final scene in the movie shows this little girl spotting Snowball and his friends and ask her mom if she could have them all. All but Snowball go down in the sewers so the little girl
grabs Snowball and the two fall in love with each other.
One reason I love Snowball so much is because he is almost me. He likes to believe that people are evil and that he needs to get revenge on the mean people in life but in reality, he has a soft spot for them. Yes, Snowball is so adorable, and he looks like a snowball, but I really enjoyed his character development through the whole movie. He learns the true meaning of life: don't hold a grudge because when you do, you don't learn your true self.
Least Favorite Character: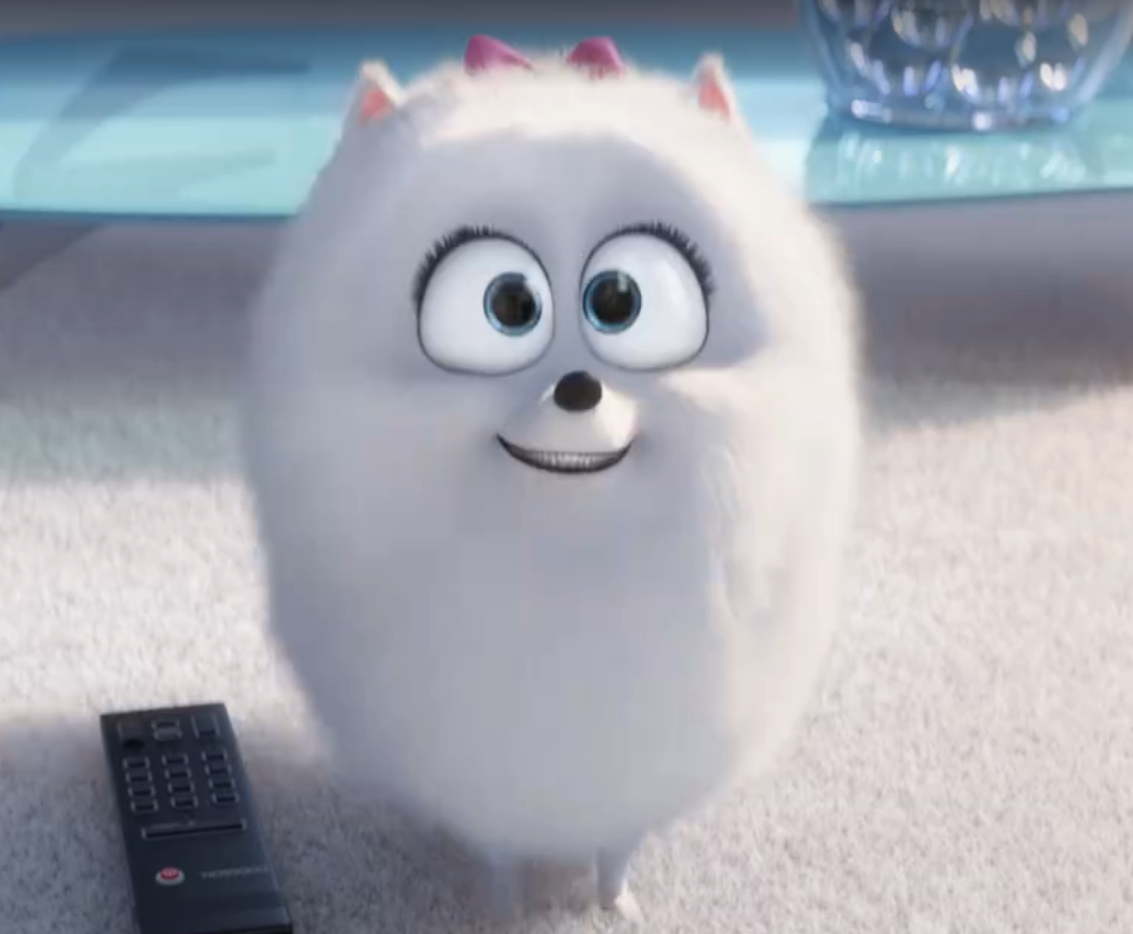 I really didn't like Gidget, even though she is a simi – main character. Gidget was almost annoying to me. Like every other animal in this movie, she was adorable. She was a big thing of fur and I wanted to snuggle her. But like her owners treated her, she acted like a princess. She was determined to find Max, because she was in love with him but people kept telling her that he doesn't know she is real. But just the way she acted and the way she lived, I really didn't like her. It might be because I know a lot of people that are like Gidget and I don't like them. I really didn't like her.
The Message:
The whole message of the movie to me was don't judge a book, or dog in this case, by their cover. Max was so caught up in his life and when his owner brought home a new dog, Duke, that he wanted to get ride of him. Max tried to get him out of there, from the very beginning because he didn't want to meet a new dog. The whole time, Max didn't give Duke a chance. By the end of the movie, Duke and Max are real good buds, and they are happy that they are together.
The movie teaches kids that just because a 'dog' could look different and act different, they should not treat them any different. Not only does Max not give Duke a chance, but both Max and Duke don't give Snowball and his friends a chance. When they find out about the viper bit, they decided to run because they know it will hurt and they will become part of the gang. Being stereotypical, the two run, without giving any of them a chance, especially since Snowball helped them get out of the truck.
My Rating:
I gave this movie a 3.35 out of 5. Yes, the movie will give you a good laugh BUT it is stupid. All of this stuff happens in a day span for the most part, and I really didn't like that. The movie did have a great message and purpose behind it but I could see the movie a lot better.
Firstly, I wish that the owner would have found out the dogs are back and the dogs would have returned home a few days later. The whole movie is based upon what pets do when their owner isn't home, and the movie does do that. I just wished that one owner would have seen the animals in action, especially if it was the dancing poodle.
Secondly, you know that the dogs are going to find their way home. It is a children's movie so you know that they can't have the dogs lost forever. I just didn't like the whole thing that the other animals friends had to go looking for him.
Thirdly, the movie is kind of predictable. Like I just said, you know that Max and Duke are going to find their way home. You also know that you are going to have the bad character turns good: Snowball. You have the lovesick character that will do anything for the one they love: Gidget. The weird character that makes the movie funny: Sweet Pea. The whole thing kind of fit into piece by the time the movie was 10 minutes in.
The Secret Life of Pets 2?
There will be a second movie to this series that is rumored to be released July 13, 2018. Even though I didn't care for this movie, I would still like to see the second movie. I would love to know what happens next with Max and Gidget, Snowball and his new owner, and Max and Duke.
Have you seen this movie or are you planning on it? What do you think pets really do when their owners aren't home? Let me know your thoughts in the comments!
Happy Reading,
❤ Ann