Today is the first day of August and it marks a few things for me like my dad's birthday, beach trips, and the first day of school. But, like every month, there is always a few books I really want to get my hands on. So, let's get on with the books.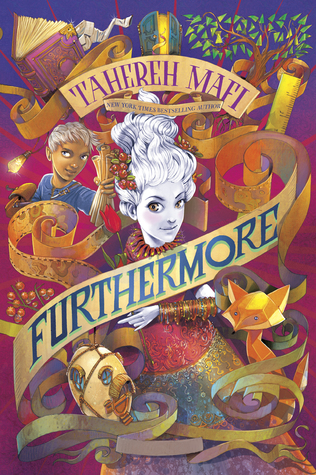 Title: Furthermore
Author: Tahereh Mafi
Publisher: Dutton Books for Young Readers
Release Date: August 30, 2016
Pages: 416 (Hardback)
The bestselling author of the Shatter Me series takes readers beyond the limits of their imagination in this captivating new middle grade adventure where color is currency, adventure is inevitable, and friendship is found in the most unexpected places.

There are only three things that matter to twelve-year-old Alice Alexis Queensmeadow: Mother, who wouldn't miss her; magic and color, which seem to elude her; and Father, who always loved her. The day Father disappears from Ferenwood he takes nothing but a ruler with him. But it's been almost three years since then, and Alice is determined to find him. She loves her father even more than she loves adventure, and she's about to embark on one to find the other.
But bringing Father home is no small matter. In order to find him she'll have to travel through the mythical, dangerous land of Furthermore, where down can be up, paper is alive, and left can be both right and very, very wrong. Her only companion is a boy named Oliver whose own magical ability is based in lies and deceit–and with a liar by her side in a land where nothing is as it seems, it will take all of Alice's wits (and every limb she's got) to find Father and return home to Ferenwood in one piece. On her quest to find Father, Alice must first find herself–and hold fast to the magic of love in the face of loss.
Why I Want To Read This Book: I really enjoyed Tahereh Mafi's book series Shatter Me, if you want to read my review for that, click here, so I was really excited when I heard she was releasing a new book. The book cover looks really interesting since it has so many different colors on it, and there is a really PALE girl on it. I think the book is middle school aged but I really don't care, since every so often, I like to pick up on of those books. Also, the synopsis sounds really interesting because the colors on the cover make a lot of sense when you think about it.
About the Author: She was born in a small city somewhere in Connecticut and currently resides in Santa Monica, California, where she drinks too much caffeine and finds the weather to be just a little too perfect for her taste. When unable to find a book, she can be found reading candy wrappers, coupons, and old receipts.
Title: Georgia Peaches and Other Forbidden Fruit
Author: Joyce Robin Brown
Publisher: HarperTeen
Release Date: August 30, 2016
Pages: 432 (Hardback)
Joanna Gordon has been out and proud for years, but when her popular radio evangelist father remarries and decides to move all three of them from Atlanta to the more conservative Rome, Georgia, he asks Jo to do the impossible: to lie low for the rest of her senior year. And Jo reluctantly agrees. Although it is (mostly) much easier for Jo to fit in as a straight girl, things get complicated when she meets Mary Carlson, the oh-so-tempting sister of her new friend at school. But Jo couldn't possibly think of breaking her promise to her dad. Even if she's starting to fall for the girl. Even if there's a chance Mary Carlson might be interested in her, too. Right?
Why I Want To Read This Book: This book sounds like it should be a fun, light read. The book sounds really funny, even though nothing is funny in the synopsis. This will be the first book that I will read that has the main character as LGBT proud, which is kind of shocking when I think about it. The book sounds really good, and the cover is cute, since it goes along with the title of the book, Georgia Peaches, and that just made me want to eat a peach. Whoops. August is also National Peach month so I wonder if that was planned?
About the Author: Jaye Robin Brown, or Jro to her friends, lives and writes in the mountains north of Asheville, North Carolina. She's in awe of magic and beauty, and is a stalwart champion for the underdog, both human and other. When she's not writing, you can find her in the art room of the high school where she teaches, or on her small farm hanging out with her dogs, cats, and horses.
Title: Results May Vary
Author: Bethany Chase
Publisher: Ballantine Books
Released: August 9, 2016
Pages: 336 (Paperback)
From Bethany Chase—whom bestselling author Emily Giffin calls "a great new voice in fiction"—comes a wise and delightfully relatable novel about a woman's journey to rebuild her life, and her heart, after a stunning betrayal.
Can you ever really know the person you love?
She never saw it coming. Without even a shiver of suspicion to warn her, Caroline Hammond discovers that her husband is having an affair with a man—a revelation that forces her to question their entire history together, from their early days as high school sweethearts through their ten years as a happily married couple. In her now upside-down world, Caroline begins envisioning her life without the relationship that has defined it: the loneliness of being an "I" instead of a "we"; the rekindled yet tenuous closeness with her younger sister; and the unexpected—and potentially disastrous—attraction she can't get off her mind. Caroline always thought she knew her own love story, but as her husband's other secrets emerge, she must decide whether that story's ending will mean forgiving the man she's loved for half her life, or facing her future without him. Compassionate and uplifting, Results May Vary is a bittersweet celebration of the fact that in love and in life, we rarely get exactly what we bargained for.
Why I Want To Read This Book: The book sounds very inspirational. Even though it isn't an autobiography, I think that it will show me a new side to a women who had her husband cheat on her, with another book. The book's cover is absolutely gorgeous, along with the title being so fitting for the book. I want to get my hands on this book, even though it sounds like an adult read, but we always need to open our horizons. 
About the Author: Writer of love stories, designer, and eternally hopeful A-cup. Author of USA Today bestseller The One That Got Away and the upcoming Results May Vary. Welcome to my page… can I get you a drink?
Title: The Bronze Key
Author: Holly Black and Cassandra Clare
Publisher: Scholastic
Released: August 30, 2016
Pages: 256
Magic can save you.
Magic can kill you.
Students at the Magisterium are supposed to be safe. Under the watchful eyes of the mages, they are taught to use magic to bring order to a chaotic world. But now the chaos is fighting back. Call, Tamara, and Aaron should be worrying about things like pop quizzes and magic contests. Instead, after the shocking death of one of their classmates, they must track down a sinister killer… and risk their own lives in the process. As Call, Tamara, and Aaron discover, magic can only be as good as the person who wields it. In evil hands, it has the capacity to do immeasurable harm, unless it is stopped in time. In this striking third book of Magisterium, bestselling authors Holly Black and Cassandra Clare present us with a school where anything, good or evil, can happen, and the only way to unlock the truth is to risk everything to find it.
Why I Want To Read This Book: I read the previous two books in this series and I love them. Yes, they are similar to Harry Potter but it really doesn't bother me. I have been wanting this book for about a year so I am ready for this book.
About the Authors: Holly Black is the author of bestselling
contemporary fantasy books for kids and teens. Some of her titles include The Spiderwick Chronicles (with Tony DiTerlizzi), The Modern Faerie Tale series, the Curse Workers series, Doll Bones, The Coldest Girl in Coldtown, the Magisterium series (with Cassandra Clare), The Darkest Part of the Forest, and her new series which begins with The Cruel Prince in January 2018. She has been a a finalist for an Eisner Award, and the recipient of the Andre Norton Award, the Mythopoeic Award and a Newbery Honor. She currently lives in New England with her husband and son in a house with a secret door. 
Cassandra Clare was born overseas and spent her early years traveling around the world with her family and several trunks of fantasy books. Cassandra worked for several years as an entertainment journalist for the Hollywood Reporter before turning her attention to fiction. She is the author of City of Bones, the first book in the Mortal Instruments trilogy and a New York Times bestseller. Cassandra lives with her fiance and their two cats in Massachusetts.
What books are you looking forward to getting in your hands this month? Have you heard of any of these books, and if you didn't, did one of these sound interested to you? Let me know in the comments!
Happy Reading,
 ❤ Ann