By the time you are reading this, I am either in the car almost to Pennsylvania, or have made it to Pennsylvania. It just depends on when you read it. My family and I go to Pennsylvania every year for about a week as our 'big' vacation trip. Many people do go on vacation, just like some book characters. Here are 4 books to read if you want to see some characters go on vacation! But first, what is a vacation?
According to Wikipedia, a vacation or holiday is a leave of absence from a regular occupation, or a specific trip or journey, usually for the purpose of recreation or tourism. People often take a vacation during specific holiday observances, or for specific festivals or celebrations. Vacations are often spent with friends or family. A person may take a longer break from work, such as a sabbatical, gap year, or career break. The concept of taking a vacation is a recent invention, and has developed through the last two centuries. Historically, the idea of travel for recreation was a luxury that only wealthy people could afford. In the Puritan culture of early America, taking a break from work for reasons other than weekly observance of the Sabbath was frowned upon. However, the modern concept of vacation was led by a later religious movement encouraging spiritual retreat and recreation. The notion of breaking from work periodically took root among the middle and working class.
Title: The Summer I Turned Pretty
Author: Jenny Han
Publisher: Simon & Schuster Books for Young Readers
Released: May 5, 2009
Pages: 276 (Hardback)
Synopsis: Belly measures her life in summers. Everything good, everything magical happens between the months of June and August. Winters are simply a time to count the weeks until the next summer, a place away from the beach house, away from Susannah, and most importantly, away from Jeremiah and Conrad. They are the boys that Belly has known since her very first summer–they have been her brother figures, her crushes, and everything in between. But one summer, one terrible and wonderful summer, the more everything changes, the more it all ends up just the way it should have been all along.
Thoughts: I love this book. The whole things starts with Belly going back to where she has spent vacation many years ago. She goes and meets up with Jeremiah and Conrad, her old friends from the vacation spot. But like any good summer vacation, there is a little relationship problem and that is the thing that makes this book so amazing. Combining Jenny Han's writing with the whole plot with make you fall in love with Belly and the whole entire book. Good luck putting this one down.
About the Author: Jenny Han is an American writer of children and teen novels. Han was born and raised in Richmond, Virginia and has one younger sister. After high school, Han went to college at the University of North Carolina at Chapel Hill, and later earned her MFA in creative writing at the New School, where she met fellow Young Adult novelists, Morgan Matson and Siobhan Vivian, the latter of which she would go on to cowrite the Burn for Burn Series with. Han currently lives in Brooklyn, New York.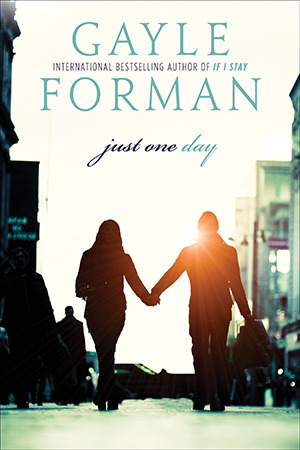 Title: Just One Day
Author: Gayle Forman
Publisher: Speak
Released: August 20, 2013
Pages: 369 (Paperback)
Synopsis: From the New York Times bestselling author of If I Stay. Allyson Healey's life is exactly like her suitcase—packed, planned, ordered. Then on the last day of her three-week post-graduation European tour, she meets Willem. A free-spirited, roving actor, Willem is everything she's not, and when he invites her to abandon her plans and come to Paris with him, Allyson says yes. This uncharacteristic decision leads to a day of risk and romance, liberation and intimacy: 24 hours that will transform Allyson's life. A book about love, heartbreak, travel, identity, and the "accidents" of fate, Just One Day shows us how sometimes in order to get found, you first have to get lost. . . and how often the people we are seeking are much closer than we know. The first in a sweepingly romantic duet of novels. Willem's story—Just One Year—is coming soon!
Thoughts: Allyson decides to go and travel. Willem, the guy she runs into, starts to be the person that she needs in her life. When he ask her to travel to Paris, she says yell, even when she doesn't know that much about him. The adventure of a lifetime. Nothing could be better. That's what you think. This book made me have all the feels. I was excited then was yelling at the book, then in tears all in the same chapter. I enjoyed this series a lot more than Gayle Forman's If I Stay.
About the Author: My name is Gayle Forman and I love to write young-adult novels. Because I do. So thank you for reading them. Because without you, it'd just be me. And the voices in my head. Gayle Forman is an award-winning author and journalist whose articles have appeared in such publications as Jane, Seventeen, Glamour, Elle, and The New York Times Magazine, to name just a few. She lives in New York City with her husband and daughter.
Title: The Last Song
Author: Nicholas Sparks
Publisher: Grand Central Publishing
Released: September 8, 2008
Pages: 390 (Hardback)
Synopsis: Seventeen year-old Veronica "Ronnie" Miller's life was turned upside-down when her parents divorced and her father moved from New York City to Wilmington, North Carolina. Three years later, she remains angry and alienated from her parents, especially her father… until her mother decides it would be in everyone's best interest if she spent the summer in Wilmington with him. Ronnie's father, a former concert pianist and teacher, is living a quiet life in the beach town, immersed in creating a work of art that will become the centerpiece of a local church. The tale that unfolds is an unforgettable story about love in its myriad forms – first love, the love between parents and children – that demonstrates, as only a Nicholas Sparks novel can, the many ways that deeply felt relationships can break our hearts… and heal them.
Thoughts: This had to be my favorite Nicholas Sparks book and movie. Something about the chemistry between Ronnie and Greg in both forms was amazing. The actors were perfectly picked for their roles and the book, when ever Ronnie and Greg would be together, I would get this funny feeling in my stomach because of how much I love them. There was times when I hated Sparks, like throwing in the details about her dad killed me. The ending killed me in both the book and the movie. Of course I loved the book more but the movie was pretty close to it. I did have to restart the movie like 3 times because I left the house once, the power went out and something else happened which I can't remember. I didn't like how the directors ended the movie but I did like the movie a lot.
About the Author: Nicholas Charles Sparks is an American writer and novelist. He has published eighteen novels and two non-fiction books. Several of his novels have become international bestsellers, and eleven of his romantic-drama novels have been adapted to film with multimillion-dollar box office grosses.
Title: That Summer
Author: Sarah Dessen
Publisher: Viking Books for Young Readers
Released: January 1, 1996
Pages: 208 (Hardback)
Synopsis: For fifteen-year-old Haven, life is changing too quickly. She's nearly six feet tall, her father is getting remarried, and her sister—the always perfect Ashley—is planning a wedding of her own. Haven wishes things could just go back to the way they were. Then an old boyfriend of Ashley's reenters the picture, and through him, Haven sees the past for what it really was, and comes to grips with the future.
Thoughts: Haven's life is changing way to fast for her. Her dad is getting remarried and her sister is getting married to a man she really doesn't care for. Haven tries her best to keep everything under control until Ashely's old boyfriend becomes part of Haven's life. Everything changes. Like every other Sarah Dessen book, you will fall in love with the book. You will become part of the book and wish that you were there.
About the Author: Sarah Dessen is an American writer who lives in Chapel Hill, North Carolina. Sarah Dessen was born in Evanston, Illinois, on June 6, 1970. Dessen was born to Alan and Cynthia Dessen, both professors at the University of North Carolina. Her only brother is a musician who resides in California with his wife and daughter. Sarah was inspired by her parents' professions long before she even started writing.
What are some of your favorite books that deal with vacations? What are some of your summer plans? What is one of your favorite summer memories? let me know your thoughts in the comments!
Happy Reading,
❤ Ann