It's May and that means that there is barley any time til the final day of school! I'm so excited, minus the four days I have to go and do exams….
There is a lot of really good books that are coming out this month. Not only is there many good books coming out this month but both Memorial Day is happening AND Mother's Day is happening, the day after my sister's 8th grade Formal. Like always, these books are not in any sort of order.
Title: A Court of Mist and Fury
Author:  Sarah J. Maas
Publisher: Bloomsbury USA Childrens
Release: May 3, 2016
Pages: 624 (Hardback)
Synopsis: Feyre survived Amarantha's clutches to return to the Spring Court–but at a steep cost. Though she now has the powers of the High Fae, her heart remains human, and it can't forget the terrible deeds she performed to save Tamlin's people.

Nor has Feyre forgotten her bargain with Rhysand, High Lord of the feared Night Court. As Feyre navigates its dark web of politics, passion, and dazzling power, a greater evil looms–and she might be key to stopping it. But only if she can harness her harrowing gifts, heal her fractured soul, and decide how she wishes to shape her future–and the future of a world cleaved in two.

With more than a million copies sold of her beloved Throne of Glass series, Sarah J. Maas's masterful storytelling brings this second book in her seductive and action-packed series to new heights.
Reason For Reading: I loved the first book in the series, and I really like Sarah's work. I have been dying to know what happens next since I have read the first book, A Court of Thrones and Roses, which I just bought a signed copy of. I am really excited to read this book, a lot! This cover is so beautiful, just like the first book's cover. I really like Sarah's work, all of it, and she is one of my favorite authors.
About the Author: Sarah J. Maas is the New York Times and USA Today bestselling author of the Throne of Glass series (Queen of Shadows, Book 4, will be out in September 2015), as well as the A Court of Thorns and Roses series (out 5/5/15). Sarah lives in Bucks County, PA, and over the years, she has developed an unhealthy appreciation for Disney movies and bad pop music. She adores fairy tales and ballet, drinks too much tea, and watches an ungodly amount of TV. When she's not busy writing, she can be found exploring the historic and beautiful Pennsylvania countryside with her husband and canine companion.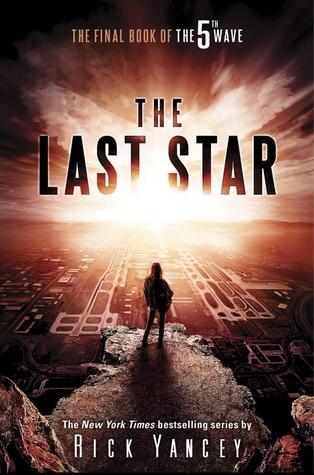 Title: The Last Star
Author: Rick Yancey
Publisher: G.P. Putnam's Sons Books for Young Readers
Release: May 24, 2016
Pages: 352 (Hardback)
Synopsis: We're here, then we're gone, and that was true before they came. That's always been true. The Others didn't invent death; they just perfected it. Gave death a face to put back in our face, because they knew that was the only way to crush us. It won't end on any continent or ocean, no mountain or plain, jungle or desert. It will end where it began, where it had been from the beginning, on the battlefield of the last beating human heart.

Master storyteller Rick Yancey invokes triumph, loss, and unrelenting action as the fate of the planet is decided in the conclusion to this epic series.
Reason for Reading: I don't want this series to end! I have been reading this series for the past year and I love it. I still haven't seen the movie for the book, The 5th Wave, but I am really excited for it. I have fallen in love with the series and the characters, that I don't want the series to end. I wish this wasn't the last book in the series.
About the Author: Rick is a native Floridian and a graduate of Roosevelt University in Chicago. He earned a B.A. in English which he put to use as a field officer for the Internal Revenue Service. Inspired and encouraged by his wife, he decided his degree might also be useful in writing books and in 2004 he began writing full-time. Since then he has launched two critically acclaimed series: The Extraordinary Adventures of Alfred Kropp, for young readers, and The Highly Effective Detective, for adults. Both books are set in Knoxville, Tennessee, where Rick lived for ten years before returning to Florida.
Title: Love Charms and Other Catastrophes
Author: Kimberly Karalius
Publisher: Swoon Reads
Release: May 17, 2016
Pages: 384 (Paperback)
Synopsis: Aspiring love charm maker Hijiri Kitamura was excited to come back to Grimbaud for her sophomore year-until she learns about the upcoming charm making competition. Grimbaud has just started to recover from the tyranny of Zita's love fortunes and it would be too easy for the winning charm maker to take Zita's place. The only solution is for Hijiri, with the support of her friends and fellow rebels, to win the contest herself.

Unfortunately, that's easier said than done, especially when Love itself has decided to meddle in Hijiri's life. Concerned that it's favorite charm maker has given up on finding a boyfriend of her own, Love takes matters into its own hands and delivers the perfect boyfriend to her in a giftwrapped box…literally.

Get ready to be charmed by this magical, quirky sequel to Love Fortunes and Other Disasters by Kimberly Karalius.
Reason for Reading: I read the first book, Love Fortunes and Other Disasters, last summer and I loved it. You can actually read my review right here. This one sounds really good because I really wanted to know more about the place, Zita's, and by the sound of this one, it seems like I will get my answer.
About the Author: Kimberly Karalius is the author of LOVE FORTUNES AND OTHER DISASTERS and its forthcoming sequel LOVE CHARMS AND OTHER CATASTROPHES (May 2016). If you gave her a wish bone, she would wish fervently for snow in Florida. Her love for 90s cartoons (or any cartoons, really) knows no bounds. She might be the only person you know who can be completely engrossed in watching silent films. Being in Florida certainly has one big perk: going to Disney World. Which she does. Frequently. Kimberly holds an MFA in fiction from the University of South Florida. Her fiction has appeared in literary journals such as Luna Station Quarterly, The Medulla Review, and Hogglepot. Her chapbook, POCKET FOREST, was published by Deathless Press in August 2013.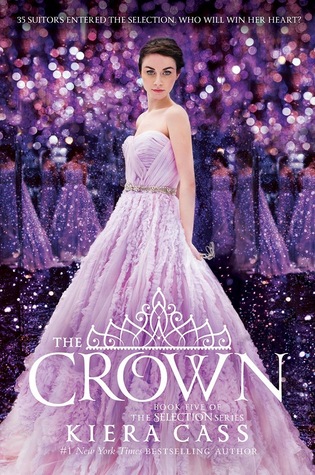 Title: The Crown
Author: Kiera Cass
Publisher: HarperTeen
Release: May 3, 2016
Pages: 288 (Hardback)
Synopsis: Kiera Cass's bestselling Selection series has enchanted readers from the very first page. Now the end of the journey is here, in a wonderfully romantic series finale that will sweep you off your feet.

Twenty years have passed since the events of The One, and America and Maxon's daughter is the first princess to hold a Selection of her own. Princess Eadlyn didn't think she would find a real partner among the Selection's thirty-five suitors, let alone true love. But sometimes the heart has a way of surprising you… and now Eadlyn must make a choice that feels more difficult—and more important—than she ever expected.

The Selection series has sold more than 3 million copies and captured the hearts of fans around the world. This swoon-worthy final installment is the happily ever after they've all been waiting for.
Reason for Reading: Some people really don't like The Selection series, but to me, I really like it. Yes, I could predict the ending of the series, but I really enjoyed reading the series. I died at the ending of The Heir and I have been waiting for this book. I really enjoy Kiera's work so I am so excited about this book, but at the same time I don't want the series to end.
About the Author: Kiera Cass is an American writer of young-adult fiction, most known for The Selection and its sequels. Cass was born and raised in South Carolina and graduated in 1999 from Socastee High School in Myrtle Beach. She attended Coastal Carolina University before transferring to Radford University. She graduated from Radford with a degree in History.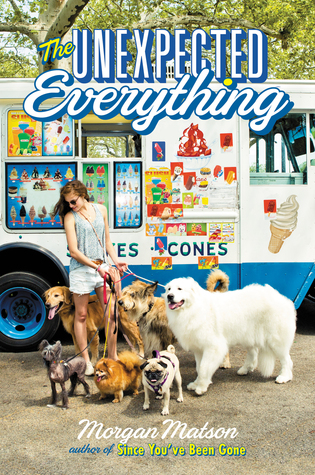 Title: The Unexpected Everything
Author: Morgan Matson
Publisher: Simon & Schuster Books for Young Readers
Release: May 3, 2016
Pages: 528 (Hardback)
Synopsis: Andie had it all planned out.

When you are a politician's daughter who's pretty much raised yourself, you learn everything can be planned or spun, or both. Especially your future.

Important internship? Check.

Amazing friends? Check.

Guys? Check (as long as we're talking no more than three weeks)

But that was before the scandal. Before having to be in the same house with her dad. Before walking an insane number of dogs. That was before Clark and those few months that might change her whole life.

Because here's the thing – if everything's planned out, you can never find the unexpected.

And where's the fun in that?
Reason for Reading: Morgan Matson is amazing. I love all of her books so far and I know that I will love her future work. I love everything that is involved with her books. I have been wanting to read this book since Morgan first started to talk about this book on her Instagram page. I am really excited to read this book because the cover and description sounds amazing!
About the Author: Morgan Matson grew up in New York City and Greenwich, Connecticut. She attended Occidental College in Los Angeles but halfway though a theater degree, she started working in the children's department of Vroman's Bookstore and fell in love with YA literature. Following college graduation (and the proud bearer of an incredibly useful theater/English degree) she moved back East to attend the New School, where she received her M.F.A in Writing for Children. Amy & Roger's Epic Detour, inspired by Morgan's three cross-country road trips, was published in May 2010. It was named an ALA Top Ten Best Book, a PW "Flying Start" book, and was shortlisted for the Waterstone's Book Prize. In the meantime, Morgan moved back to California, went back to school again and in 2011 received an M.F.A. in Screenwriting from the University of Southern California. Her second book, Second Chance Summer, was published in May 2012 and draws largely on her experiences spending summers growing up in the Pocono Mountains of Pennsylvania. Her third book, Since You've Been Gone, was published in 2014. Morgan currently lives in Los Angeles, though she loves to travel and does it whenever she can. She is currently writing another book, to be published in 2016.
What books are you looking forward to this month? Let me know down in the comments and maybe I'll check it out!
Happy Reading,
❤ Ann